If TV Characters Could Play In the Super Bowl

Well, Championship Sunday is over. The games have been played and the Super Bowl teams are getting ready to play on the sports world's biggest stage. How did things turn out for you? Did your teams get in? Whether or not you're excited about this year's Super Bowl teams or even have an interest in football, here's a way to get in on the action. Picture an alternate reality where the television world is alive, and our favorite characters live and operate. (That means the
Twilight Zone
theme would cue here.) Because sports is big in all realities, we have chosen a team to represent this world in the Super Bowl. Granted, the possibilities are endless, but we'd like to introduce you to the premier starting roster of the
Cathode Rays.*
* The invention of the cathode ray tube (CRT) in 1897 made television possible.
The 2008 Cathode Rays
Offense

Quarterback
Fans love a good quarterback derby, and these guys are fighting amongst themselves.
Jack Shepard (
Lost
) is a natural leader and has great decision making skills. However, Clark Kent (
Smallville
) has that rocket arm, and he did play very well for Smallville High.
Jamie Foxx
is pouting. He feels he should start because his QB alter ego, Willie Beamon (
Any Given Sunday
), was a quarterback in a movie.
Running back-Daphne
(
Heroes
)
Yes, this speedster is a girl, but she moves so fast, they'll never know.
Receiver-Derwin Davis
(The Game) is glad he's first on the depth chart on this team, at least.
Offensive Line
Sylar, Nathan and Peter Petrelli (Heroes) have no need for bulk because they can simply zap the defense off the QB. They're the reason Charles (
Lincoln Heights
) is on for nothing other than a need to fill a roster spot.
Fullback-Smash Williams
(
Friday Night Lights
) What offense is complete without the Smash? It should be noted that the surgically repaired knee might be a factor.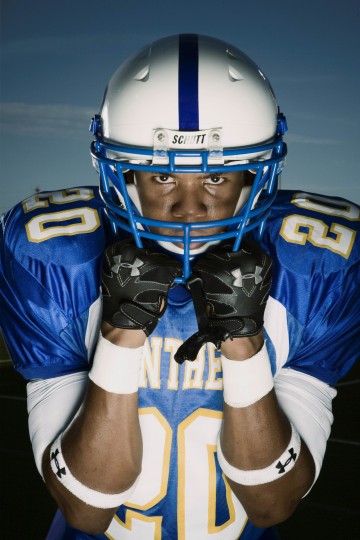 Halfback-Annie Norris
(
Life on Mars
) Nowadays you need law enforcement on the gridiron because of all the goofy legal snafus players get themselves into. Don't worry; the line won't let Annie get hit.
Tight End-Mark
(
Ugly Betty
) He proves that even the most fashion-conscious can make it in football. It's rumored that he has a problem with playing in the rain.
Center
- None other than the center of controversy himself, Sanjaya (
American Idol
). He will also perform at halftime.
The "D"
Left and Right tackles-Det. Kevin Bernard
(
Law and Order
)
Anthony Anderson and P.I. Emerson Cod
(
Pushing Daisies
) Chi McBride are the Rays' equivalent of the Minnesota Vikings' Williams Wall.
Linebackers
Middle-Lex Luthor (
Smallville
) Often mistaken for the Chicago Bears' Brian Urlacher.
Strong and weak-side linebacker-Hugo (Hurley) Reyes (Lost) is both in one. Just the sight of him coming makes running backs and receivers take themselves down.
Left and right cornerbacks-Gus and Shawn
(
Psych
)
This duo uses their pseudo-psychic powers to pinpoint exactly where the QB will throw the ball. They lead in interceptions!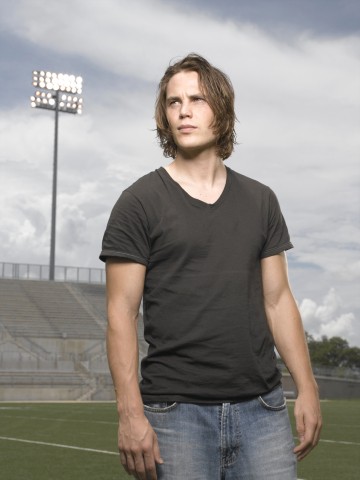 The secondary
Dr. Sheldon Hawkes
(CSI: NY),
Foreman
(
House
),
Tim Riggins
(Friday Night Lights), and
Jay Leno
(Tonight Show)
Head Coach
Gil Grissom
(CSI) There were also reports of a very unhappy
Eric Taylor
(Friday Night Lights), who originally was pegged for the position. Taylor said all Grissom knows about are insects and he has no real football knowledge. Grissom countered by saying it's not just X's and O's but the evidence. He looks at the evidence and calls the plays accordingly.
Team doctor
Dr. Gregory House
(House) This is the place for him. If he gets out of pocket, one of the players will smash his face.
Commentator
John "Frank Caliendo"
(impersonator)
Madden
(NBC Sunday Night Football)
Cheerleaders
Claire
(Heroes),
Izzy Stevens
(
Grey's Anatomy
),
Melinda
(
Ghost Whisperer
),
Cassie
(
Lincoln Heights
), and
Betty Suarez
(Ugly Betty)
Who would you draft for the team?
Story by
Donna Terrell
Starpulse contributing writer