If The Glove Fits, It Must Be... Today's Links

Check out some of the best links we found around the web today. And be sure to visit our
Daily Links
section where we're constantly pouring in the best stuff from around the web.
Karma sure is a bitch!
- Celebslam
Six sexy breast cancer survivors
- College Candy
Russell Simmons is a Hot Stud
- IDLYITW
Check out what happened this week on "Gemini Division":

44 pics of Katy Perry and her God-awful wardrobe.
- Blender
David and Victoria Beckham believe that a bird in the hand is good for the skin.
- Seriously, OMG! WTF?
Kendra Wilkinson puts her talent to good use judging a bikini contest.
- Celebslam
Jonas Boner:


New pair of Vans features KISS on them. Freakin' awesome.
- Blabbermouth
Bikini calendar season continues with Gemma Atkinson's entry. And it's quite nice.
- Egotastic!
Is "Heroes" going nowhere fast?
- Starpulse
Click the pic to enter to win Black Sabbath Converse All Stars!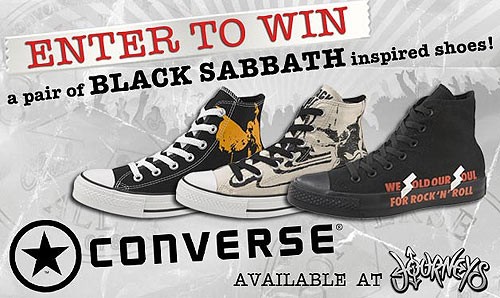 Nicollette Sheridan looks amazing in a bikini. And she's like, 43.
- Celebslam
Katy Perry and her amazing cleavage.
- Yeeeah.com
Back by popular demand...
...for those of you who missed it yesterday, Anna Kournikova still looks alright in a bikini.
- Celebslam
Don't forget to visit and bookmark the
Daily Links
page and come back often for some of the hottest, funniest and craziest crap on the web!
Starpulse Sideboobs: