If He Couldn't Sing, Tom Cruise Had A Clause To Get Out Of 'Rock Of Ages'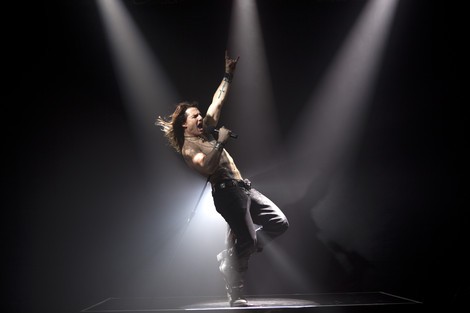 Tom Cruise only agreed to be part of the "Rock Of Ages" cast if he passed vocal tests.
 
The movie star plays outrageous rocker Stacee Jaxx in the upcoming movie musical, and director Adam Shankman reveals Cruise wanted to make sure he could hit the high notes before signing on.
 
The filmmaker admits the star had been begging him for a musical role for years - but when Shankman presented him with the idea to play Jaxx, Cruise wasn't immediately sold.
 
Shankman says, "I needed for one of my movies to clear a poster of Top Gun, so I called him (Cruise) to ask if he could clear it and he followed up with, 'When are you going to make a musical with me?' In my head I was like, 'Never', but then this opportunity came up so I offered it to him to see if he would bite.
 
"My idea was that it would be huge for the world's biggest movie star to play the world's biggest rock star.
 
"He thought it was such as crazy idea, but he just likes challenges, and I think, being a father and seeing (daughter) Suri love music and (wife) Katie (Holmes) love dancing, it was in his consciousness and he jumped at it.
 
"But we did have this agreement that if we put him with a vocal coach and he just couldn't sing, we would make it go away and just never discuss it again."
 
Shankman admits it quickly became clear Cruise had a great voice: "I listened in from the other side of the door of his first vocal lesson and immediately knew it would work. He was hitting these notes that were unbelievable, and in the movie, he has to sing Paradise City, which is so high, but he just wrestles it to the ground."