'Idol' Wannabe Alexis Gets The Boot Following An Ordinary, Forgettable Performance

Ryan Seacrest
said the results would surprise us. I guess he doesn't read this column. Last night was actually kind of big as far as the early results shows go since it determined the spots for the summer
American Idol
nationwide concert tour, so the pressure was on with each trip down the rows of seated hopefuls in a way we won't see on the next few shows. This added to the tension, but not enough to cover up the fact that this was yet another one-hour results show with another lame musical number, lame Ford commercial and lame musical guest.
There were some nice new touches. It was good to see a bit of the Idols' personality come out as they reminisced about the departed contestants. Also, putting the judges on the spot to name who they thought would go home is a bit of a cruel twist that devilishly heightens the drama of the evening.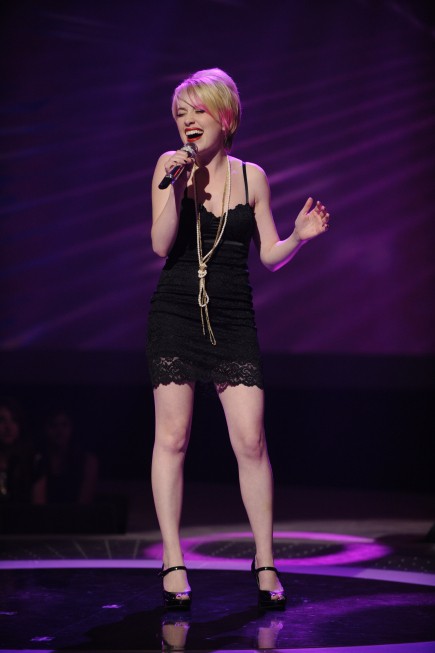 Still, we had to wade through
Brad Paisley
and a
Carrie Underwood
/
Randy Travis
duet. The country music always seems a bit awkward in this pop arena and never moreso than Paisley's mannequin impression of a performance.
After the hour we were finally treated to the big "surprise." Too bad it never came as Alexis, as predicted here, got the boot following her ordinary and forgettable performance that certainly never resonated with voters. She did her best to earn a judges' save with an oversung performance that seemed to like a full body passion plea to keep her from obscurity as she choked back tears. This is definitely a good addition to the results show.
Ultimately, it wasn't enough to keep her on the show. It never made since to use the save on this show as it would disrupt the tour top ten. It's too bad, because the competition just got a whole lot less hot.
And with that, on to the inaugural American Idol Power Rankings! Contestants are listed in order of how likely they are to ultimately win the competition, and not in order of quality.
1 (Last week's rank: n/a)
Danny Gokey
He's probably the best singer in the competition, and definitely the contestant most likely to appeal to the middle American and elderly portions of Idol's audience. He'll probably have the largest voting contingent for the longest time. Something he can ride through to the end. A more mature
David Archuleta
.
2 (n/a)
Matt Giraud
The first two weeks have shown that Giraud has the most talent of anyone in the competition, and is likely to be this year's David Cook.
3 (n/a)
Lil Rounds
This week only proved how invulnerable she is in the competition. Even when she was out of her element she still survived and gave a solid performance. She'll be a major threat when the themes play into her wheelhouse.
4 (n/a)
Allison Iraheta
She seems to be able to mold any song into her blend of hard-edged but poppy rock. She's going to lock down both the Hispanic and youth contingent and should only get better as the competition progresses and she gains more experience.
5 (n/a)
Kris Allen
I'm not one to think that girls will vote for anything they find attractive (Unlike most of the media I think women have brains) but it's hard to ignore the high-pitched reactions to Allen. It doesn't hurt that he has a great voice.
6 (n/a)
Adam Lambert
He is going to freak out older voters and this week's performance perfectly illustrated that he's a musical theater guy in a pop star's world. He seemed like a lock based on the judges love for him after "Black or White" but I don't see it.
7 (n/a)
Anoop Desai
He came back in a big way this week, but seems very vulnerable to song choice. Time will tell if he can expand his repertoire enough to not seem like he's giving the same performance each week. He's a darkhorse to win it all.
8 (n/a)
Scott MacIntyre
He's incredibly likable and his being visually impaired is certain to win him some sympathy votes (that's just a fact), but he doesn't really have the mainstream musical flavor or overall vocal talent to win it. We'll see how much he improves.
9 (n/a)
Michael Sarver
One of the most likeable contestants in the history of the program, but also probably the worst singer left. He's going to have to choose his songs very carefully and keep saying the right things to the judges if he even wants to get into the top five.
10 (n/a)
Megan Joy
She's just too quirky and weird to be any threat to win. She's not the strongest singer and her performances never really move beyond stiff. She's the only person left with absolutely no chance of winning.
Story by
Andrew Payne
Starpulse contributing writer