'Idol' Finalist Lauren Alaina 'Sprained' Her Vocal Cords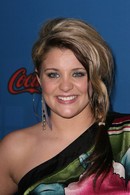 A top doctor was called to the set of American Idol on Tuesday to save wannabe star Lauren Alaina's voice for the penultimate episode of the TV talent show.

The pressure got the better of the young singer as she rehearsed for her big night - and it cost her voice. Worried producers considered replacing Alaina with Haley Reinhart, who was voted off the show last week, as doctors attempted to make sure the country singer would be OK for the live performance show.

During the program she had to belt out a personal favorite, a tune chosen for her by former Idol winner Carrie Underwood and a new song written by Nicolas Cage's new daughter-in-law, Nikki Williams.
Idol bosses were so impressed with the voice doctors, who made sure the young finalist was ready to perform; they brought one of them onstage at the beginning of the show.

The medic explained his patient had "sprained" her vocal cords but she was on "a lot of medicines" and was going to "do great". He was right - the youngster was tipped to win when votes were counted overnight.

Alaina will learn if she has triumphed over fellow teen Scotty McCreery during the season finale on Wednesday night.
Click Here For More Lauren Alaina Pictures