Idiot Pilot To Join 2008 Rockstar Taste Of Chaos Tour

This winter, Bellingham, WA-based atmospheric rock duo
Idiot Pilot
will join
Avenged Sevenfold
,
Atreyu
,
Bullet For My Valentine
, and
Blessthefall
for the fourth annual Rockstar Taste of Chaos tour.
In an unprecedented move for the tour-- the only worldwide lifestyle festival of its kind-- Idiot Pilot will be performing two special sets each night in the venues' concourses
The Rockstar Taste of Chaos tour is scheduled to hit 43 cities in the U.S. and Canada between February and April 2008, beginning February 29th in Denver, CO. Tickets are on sale now at www.rockstartasteofchaos.com in conjunction with Music Today.
Idiot Pilot-- comprised of longtime friends Daniel Anderson and Michael Harris-- have been on the road since November touring in support of their second album for Reprise Records,
Wolves
, released digitally via online retailers October 2nd. The CD, which is being released in stores on February 12th, is recommended by Alternative Press who notes "this epic-rock duo's soaring hooks will bounce around your noggin even after you press 'Stop,'" while Alarm magazine calls Wolves "a unique brew of anthemic pop, arch electronics, and shrieking hardcore."
Idiot Pilot have released the video for their first single "Retina and the Sky," which is currently available on WBR's YouTube Channel (http://youtube.com/user/warnerbrosrecords), as well as on the band's website (
http://www.idiotpilot.com
).
Idiot Pilot's tour dates for 2008 Rockstar Taste of Chaos are as follows:
2/29 Denver, CO, Fillmore Auditorium
3/1 Kansas City, MO, Memorial Hall
3/2 Milwaukee, WI, The Eagles Ballroom
3/4 Minneapolis, MN, Roy Wilkins Auditorium
3/5 St. Louis, MO, Family Arena
3/7 Dayton, OH, Hara Arena
3/8 Detroit, MI, Cobo Arena
3/10 Rochester, NY, The Armory
3/11 Chicago, IL, Aragon Ballroom
3/14 Philadelphia, PA, Tweeter Center
3/15 Asbury Park, NJ, Convention Center
3/17 Washington, DC, Patriot Center
3/18 Portland, ME, Cumberland County Civic Center
3/20 Nassau, NY, Nassau Coliseum
3/21 Boston, MA, Tsongas Arena
3/22 Albany, NY, The Armory
3/24 Atlanta, GA, Gwinnett Center
3/25 Tampa, FL, USF Sundome
3/26 Miami, FL, Bayfront Park
3/28 Orlando, FL, UCF Arena
3/29 Biloxi, MS, Mississippi Coast Coliseum
3/30 TBA
4/1 Dallas, TX, Nokia theater
4/3 Oklahoma City, OK, Fairgrounds Arena
4/4 Corpus Christi, TX, Concrete Street Amphitheater
4/5 San Antonio, TX, Freeman Coliseum
4/6 El Paso, TX, County Coliseum
4/8 TBA
4/9 Phoenix, AZ, Jobing.com Arena
4/10 Long Beach, CA, Long Beach Arena
4/12 San Jose, CA, Event Center
4/13 Sacramento, CA, ARCO Arena
4/15 Seattle, WA, WaMu Center
Before they hit your city, check out their single "Retina and the Sky"
Quicktime
|
Windows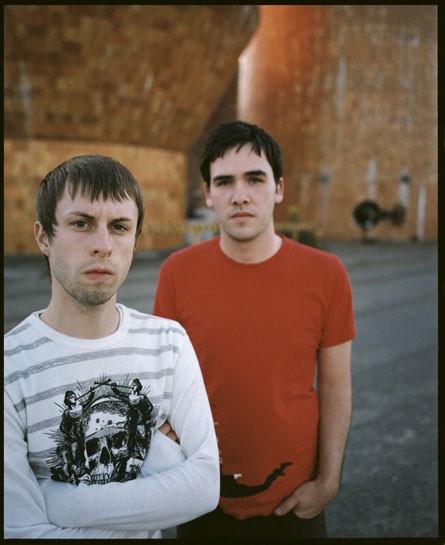 (Streaming audio and/or video links may expire without notice)