Idina Menzel's Debut Album, 'I Stand,' To Be Released Jan 29

Already a star on Broadway, the charismatic
Idina Menzel
("Rent," "Wicked") is ready to star on album. To make that happen, she has enlisted the man responsible for launching, or continuing the phenomenal careers of, other recent major female artists. Glen Ballard, best known for
Alanis Morissette
's 16-times-platinum
Jagged Little Pill
and who has worked with
Shakira
,
Christina Aguilera
,
Annie Lennox
and
Celine Dion
, produced and co-wrote all but one of the songs on I Stand with Menzel.
Idina Menzel's Warner Bros. Records debut album, "I Stand" is a powerful collection of exquisite new songs written by the Tony Award winning actress/singer/songwriter. With Idina's one-of-a-kind soaring voice and the talent of legendary Grammy winning producer Glen Ballard, the final outcome is an album filled with pop tunes and heartfelt ballads-intimate yet universal stories of life, its challenges, relationships and of course - the subject of love.
"For the first time in my life, I had a feeling of complete artistic freedom. I've wanted to work with Glen forever. He really understands musicians and provides the perfect environment for creativity. Not only did he have a deep understanding of the complexities and timbre of my voice but he celebrated my talent as a songwriter," said Menzel.
Returning the compliment, Ballard added, "it's very rare when you have somebody with Idina's vocal skills who also writes so eloquently about what's important to her. I knew I was working with a first-rate writer. She has stories to tell and they're really worth hearing."
Idina who reached superstardom on Broadway in two career-defining roles- her Tony Award winning performance in the musical blockbuster "Wicked" and in the revolutionary "Rent" didn't get to "stand behind a character, costumes and makeup" when she went to work on her new album. As Idina put it, "I love being an actress but the hardest thing to do is totally be yourself, singing your own songs with nothing to hide behind. It's exhilarating, exciting and terrifying-but ultimately rewarding."
The nine Idina-penned tunes on "I Stand" are open to various interpretations-personal and otherwise. "Sometimes when people hear my new songs they take a completely different meaning from them than what I originally intended. I just love that. As a songwriter, it means I've accomplished something bigger than myself."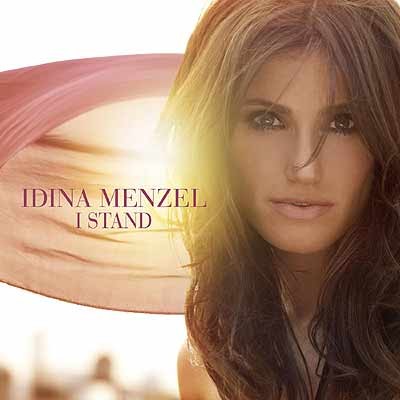 With album highlights such as the unforgettable anthemic new single "Brave", Idina was able to write about intimate day-to-day experiences and emotions while creating strong melodies that reflected the most expressive parts of her voice. Another stand out cut is the celebratory "Gorgeous" co-written with Dave Basset and already dubbed by earlier listeners as the song to play on your ipod before a night out. "Gorgeous" sends "a hopeful and uplifting message for anyone who has been alienated in some way for loving someone in the face of judgment or non-acceptance," says Idina. In the emotional "Better To Have Loved" she reveals "that no matter what may happen - even if it's heartbreak and pain, at least I'm living life in a rich and passionate way."
The title song "I Stand" is about trying to understand who I am, what I believe in and what I contribute to the world though I appreciate that I'm still a work in progress. I think "I Stand" is a song that my fans will especially appreciate. So many people struggle with that feeling of being different from those around you but I want to encourage people to think that it's more than okay to be fierce and to let it all shine.
Idina's career began as a teenager in her native Long Island, New York where she sang at weddings and bar mitzvahs which required learning a huge repertoire of songs from classic rock to Motown to jazz to the latest hit single from Madonna. "When you're a wedding singer, people are usually talking and eating so when they stopped and even applauded, I knew I was on to something good," laughed Idina.
While working toward her bachelor's degree in drama from New York University, Idina performed with rock bands in downtown clubs in New York City during the week and continued her wedding gigs on the weekend. In the winter of l995, Idina auditioned for the Broadway bound "Rent" and won the part of Maureen, an outspoken bi-sexual performance artist. The role earned Menzel her first Tony nomination and the musical went on to win four Tony Awards and the Pulitzer Prize.
In 2003, Idina originated the role of "the green girl," the misunderstood witch in the hit musical "Wicked" which included her show-stopping performance of the song "Defying Gravity". In 2007, she re-recorded and remixed "Gravity" and the song went on to become a Top 5 hit on the Billboard Dance Chart. Her star turn in "Wicked" won her a Tony Award and huge critical acclaim. The Boston Herald raved, "Menzel need only plant her feet on the ground and sing to make the back of the theater vibrate with the power of her voice." Other credits include two Drama Desk nominations for her roles in "The Wild Party" and "See What I Wanna See" at the Public theater. Last year, she opened and reprised her starring role in "Wicked" on the London stage. Film credits include starring roles in the Disney romantic fable,
Enchanted
,
Rent
and Robert Towne's
Ask The Dust
. The
Robert Zemekis
film and soundtrack album
Beowulf
includes a performance of the song
A Hero Comes Home by Idina
.
Inspired by artists like
Bette Midler
and
Barbra Streisand
- triple threats who have conquered stage, film and success as recording artists, Idina Menzel stands poised to embark on her ultimate challenge-a solo artist singing her very own songs.
Album Track Listing
I Stand
Better To Have Loved
Brave (first single)
Gorgeous
Where Do I Begin?
Don't Let Me Down
I Feel Everything
Forever
Enemy
Perfume And Promises
'Brave' Audio Streams
Windows Hi
|
Windows Lo
Quicktime Hi
|
Quicktime Lo
(Streaming audio and/or video links may expire without notice)