'Ice Age 4' Breaks Box Office Records Across The Globe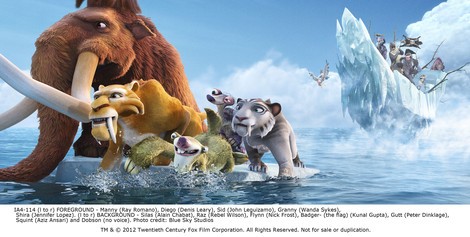 "Ice Age: Continental Drift" doesn't debut in the United States until July 13, but the film is already doing excellent business overseas, where it has opened at number one in most markets.

The fourth movie in the "Ice Age" franchise shattered box office records around the world due to a $78 million weekend opening.
 
The movie has scored the biggest opening weekend ever in Argentina, Colombia, Peru and Chile, and the biggest debut for an animated movie in Norway, Sweden, Ecuador and Bolivia.
In the film, Scrat's acorn obsession sparks a continental catastrophe that sends Manny (Ray Romano), Diego (Denis Leary), and Sid (John Leguizamo) on an adventure involving a ship full of fearsome pirates, and an unexpected reunion as the Ice Age saga continues in this eye-popping sequel.
Other voice cast members include Queen Latifah, Seann William Scott, Josh Peck, Jeremy Renner, Jennifer Lopez, and Aziz Ansari.