Ian Somerhalder Offers To Start 'Private Investigation' Into Arkansas Cat Killing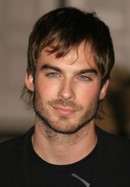 Actor Ian Somerhalder has vowed to launch a private investigation into the cruel killing of an Arkansas family's cat after it was skinned as part of a sick political protest - if police refuse to chase the murderers.

Jacob Burris, the campaign manager for Arkansas Democratic congressional candidate Ken Aden, found the family's pet slain on his doorstop on Sunday, with the word 'liberal' inscribed along the dead feline's back.

Burris contacted the Russellville Police Department to report the act of animal cruelty and now The Vampire Diaries star has taken to his Twitter.com to express his disgust and demand appropriate action be taken to catch the sick perpetrator.

In a series of posts on Thursday, he writes, "Let's get to the bottom of it. Whomever it is should be prosecuted to full extent of law. This kitty killed in Arkansas with LIBERAL scribed on its fur."

"THIS IS NOT OAKY (OK) IF police do not or will not find party/parties responsible, I will start a PRIVATE INVESTIGATION into the matter. I sure many of you agree."