Ian Somerhalder Honored At Genesis Awards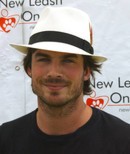 Actor and activist Ian Somerhalder was honored for raising awareness of animal rights issues at the Genesis Awards on Saturday night.

The Vampire Diaries star has long used his fame to campaign against the unnecessary slaying of animals, including Canada's controversial seal cull and shark finning, and even set up his own non-profit organization, the Ian Somerhalder Foundation (ISF) to draw attention to them.

And now his philanthropy efforts have been hailed by organizers of the annual Genesis Awards, which recognize those who work to raise public awareness and understanding of animal issues.

Somerhalder attended the prizegiving in Los Angeles and used his Twitter.com page to keep fans updated about the ceremony, where he received the prestigious Wyler Award.

He writes, "You have to know - This event, the Genesis Awards is TRULY one of the most IMPORTANT events of the year - I promise."

Other winners at the awards included The Ellen DeGeneres Show, TV series Hawaii Five-O, and movie Rise of the Planet of the Apes, which saw off competition from War Horse, Dolphin Tale and animated family movie Rio to win the Feature Film prize.