'I Have An Open Heart To Everyone': Real Housewives Of New York Star Sonja Morgan Interview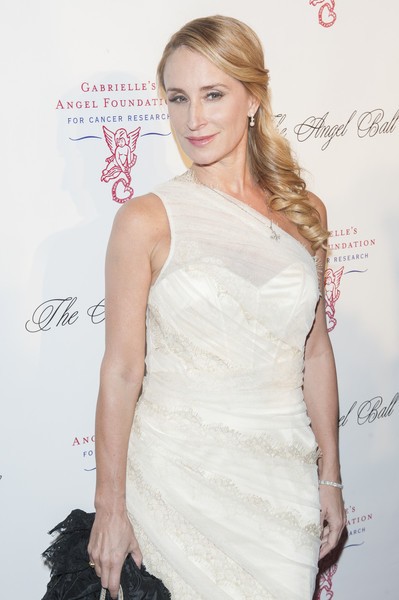 Starpulse's Jeza Belle sat down with "Real Housewives of New York" star Sonja Morgan to find out more about her iconic relationship with the gay community, her heartfelt concern for Hurricane Sandy victims, and her thoughts on friendships on the RHONY series.
Starpulse: What have you been up to since Season 5 of the "Real Housewives of New York" (RHONY)?
Sonja: I've been focused on helping the victims of Hurricane Sandy recover from the devastation they suffered. First, I helped to raise funds for the Ali Forney Center, which supports LGBT homeless youth. I also worked to help raise money for those who lost their homes in Breezy Point and the Rockaways. Then, when I realized how many people were suffering and in need of so many things, I went down into my basement with my daughter and my assistants Tyler, Maria and Jessica. We worked our fingers to the bone, literally breaking our finger nails to put together bins of items for people. I'm a high-class hoarder who has saved some amazing things from my five former homes and I decided that the victims of this horrendous storm needed them more than I did.
Your support for 'the gays' is unquestionably strong. Where did your connection to the LGBT community come from?
I'm an artist and I'm very sensitive. Don't forget I'm a Pisces moon who follows the stars, the moon and the tides. When I was at Fashion Institute of Technology for my bachelor's I lived with my gay roommates in Chelsea in a little apartment with a back yard. It was a luxurious life…so we thought. I was working in retail and began to model. I even was in the Marc Jacobs show and then went off to Europe, and these guys helped give me confidence. They did my hair, my nails, made my clothes and made this girl from upstate New York feel like I could do whatever I wanted to do and be whatever I dreamed of being.
As a parent, how would you feel if your own child was gay or lesbian?
I'm living in New York because it's the most tolerant city in the world and that's exactly what I want my daughter to see and understand. As a parent, I just want my child to be happy, to love and be loved. That means not only understanding who you are, but being who you are as well. That's all that matters
How do you manage to keep your daughter out of the spotlight while being on a popular reality TV show?
Well, it's very easy to do that because ironically we are private people. I may be known as a worldwide jet setter, particularly before the show, but we entertain at home and have private affairs so the access isn't as easy as someone may think. People think they can just pop into our tight-knit lives by asking to help with your charity etc but access doesn't come easy. There's actually an art to socializing in these circles which involves minding your P's and Q's and certainly not burning any bridges.
Well speaking of burning bridges, tell us about your relationship with Aviva Drescher since the RHONY reunion?
I haven't seen her much since the reunion, if at all, except for at a distance. I told her on camera at the 'apology' dinner she invited me to that I accepted her apology but we would never be good/close friends. However, we are adults; I'm not fifteen trying to start over in life. I have many close friends that have been there for me in my life for decades. These people inspire me. Those are the people I want to take care of. I have an open heart though to everyone…including Aviva.  I happen to love Aviva's family, which is why I wanted us to be friends. We'll just have to wait and see.
Through thick and thin one thing seems to remain constant; your friendship with fellow RHONY star Ramona Singer. Why has it had such staying power?
Ramona has a heart of gold. No one is perfect. Again, I have an open heart to people, I'm just not going to go out of my way to spend time with people who suck my energy dry and damage me in the process. Ultimately, a friend like Ramona is the kind of friend I'm interested in as she doesn't mean any harm.
Tell our readers about Sonja Innovative Living?
When I came on the show I was writing a book to turn into a screenplay.  The book was a sexy novel, but not the Sonja tell-all that I'm saving for the future.  However, people became interested in my lifestyle and my toaster oven etc. so I decided to put the book on hold.  I concentrated instead on posting the recipes of mine on my website that people had interest in, even showing them in videos how to prepare them. I began making appearances at stores across the country demonstrating how to arrange flowers or do a red carpet 'smoky eye' in twenty minutes or less. All of this led me to the development of Sonja Innovative Living as a brand, which I'm working to build. The interest in things like how I pack a suitcase, why I love a white cashmere shawl year-round, or how I keep my clothes separated in my Palm Beach / Monaco or Miami / Saint-Tropez closets for example, were fascinating to people and I saw this as an opportunity to get into all aspects of lifestyle living as a brand beyond the toaster oven. That's why I went to Heather on the show, because I needed help with the branding, specifically with things like colors and a logo stamp. You only got to see a few minutes of the filming which focused on the photo shoot for the toaster box, but there was so much more to it. I was presenting Sonja Innovative Living at that time to stores from the placemats to the napkins and aprons etc. which all emanated from me cooking out of the toaster oven.
Now let's have a little 'girl talk' and dish:
Any 'hotties' in your life presently?
I was dating Brian the artist for three years, which was a great time period for me. However, at this point I'm working on wrapping up the reorganization of my assets (my houses in NY / France), and focusing on holding onto the money I had already made in prior decades. As that's wrapping, I'm gearing up to hit it hard with my brands. I just don't have room for a 'hottie' right now. I do like a date for dinner or the movies with a smart and straight laced kind of guy. Since I am a creative artist, I like a man that can watch the bottom line while being the yang to my yin. I'm happy being single though, as I was happy being married. While going through my divorce, I just wasn't ready. I was attached to the life and family my ex-husband and I had built together. I couldn't just erase ten years of marriage, and the seven years we knew each other before that, in a few short years. When I'm ready though, I want a rock solid breakfast, lunch and dinner man again.
Who is your celebrity crush?
My celebrity crushes are the kooky, fun and quirky guys. Men like Owen Wilson, who I've had a flirt with, as he's cute and brilliant. Also David Arquette, who I spent a few minutes with on "Watch What Happens Live" and found out we actually had a mutual friend when he asked me who my dress was by, and I said Lorena Sarbu. I like guys who are not too "macho" to notice a girl's shoes or dress, and David even asked whose dress I was wearing on the show.
What's Sonja's cocktail of choice
Prosecco! I love champagne, but prefer prosecco as it doesn't have the added sugar. When I would entertain on the yacht or my houses I always had the Dom Perignon or Laurent Perrier pink champagne, but also tons of prosecco, which my friends always enjoy. You have less of a hangover and can have a longer night since you can drink more while not getting too tipsy. Now I also love a martini the way they do it in France: extra vermouth, straight up with olives. If I'm going out dancing then it's a bottle of tequila for the table.
Now that I'm thirsty, let's talk fashion. Your outfits are inspired even for a drag queen like me. Where did you get your sense of fashion?
I'm inspired by people like Coco Chanel, Diana Vreeland and Wallace Simpson. The freakier the better! They did the best with what they had all while mixing a martini and seducing a man.  I always say that I dress from Katherine Hepburn and Jackie O' all the way up to "Hello Dolly"! Fashion can be entertaining and I want my friends to have fun and not be disappointed, even if it means I'm wearing the lampshade at a party. The more embellishments in my eyes the better, even if it's faux pas; who cares?! Hats, boas, trims, headbands; I love them all.  In fact, leopard is my neutral.  Designers like Ralph Lauren, Valentino, Roberto Cavalli and Dolce & Gabana inspire me because they mix different textures. This is important to me as I'm sensual and like to have mixes of fabric with different feels from brocade to velvet to satin.
You continually march to your own beat. From where does the Sonja's independent spirit originate?
The gay roommates, who inspired me to be myself and also the Sonja spirit I was born with. You are born who you are. For example, I was born boy crazy! When I was a young girl, there was a ten year old boy across the street that was so cute. I went out to the swing set with my kelly-green short-shorts and white socks pulled up over my knees. There I sat with my long blonde hair swinging and smiling at him. I'm not even sure where I got the fashion idea from because all we had was a little black and white television. I was just always myself. In fact, my grandfather on his death bed even said they should watch out for me as I would always be boy crazy. That's just one example of why I believe I'm naturally who I am, but I have been inspired along the way by people.
What can we expect in the future?
I live each day as if it's the last. It's like Sinatra said, "Whatever gets you through the night"!  I'm trying to hang on to the money and friends I've made over the decades. Also, I'm focused on making sure my daughter keeps getting high grades, that she's happy and has a great future.  I'm lucky to have a wonderful daughter who is humble, good, and well mannered. While visiting my family over the holidays, I went to church and thought a lot about the people affected by the hurricane. I came away remembering that we are all sinners but we have to keep going, keep trying to do our best. There will always be people who have more money, are more beautiful, or even want to take things away from us, but in the end none of this is important. What's important is maintaining your health and spirit. This is what I'm focused on for the future.