I Am Ghost Set To Release Their Debut Album, "Lovers' Requiem," Oct. 10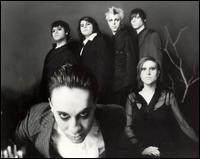 I Am Ghost
- the revered Long Beach, California-based dark rock sextet - will release its debut full-length album through Epitaph on October 10, 2006. Titled
Lovers' Requiem
, the follow up to the band's 2005 debut EP,
We Are Always Searching
, was produced by Michael "Elvis" Baskette (
Iggy Pop
,
Incubus
,
Chevelle
,
Cold
).
Fresh off stints on The Warped Tour's Smart Punk and Hot Topic stages, the group - which counts vocalist Steven Juliano, violinist/vocalist Kertih Telestai, multi-instrumentalist/vocalist Brian Telestai, guitarists Gabriel Iraheta and Timoteo Rosales and drummer Ryan Seaman - brings forth a breathtaking amalgam of vibrant strings, demonic guitar lines, choral flourishes and grinding punk rock. Boasting titles like "Our Friend Lazarus Sleeps," "Pretty People Never Lie - Vampires Really Never Die" and "The Ship of Pills and Needful Things" Lovers' Requiem perfects "Epicore," I Am Ghost's unique, self-coined subgenre.
"[It] entails a lot of crazy guitar leads, vocal choirs, orchestras and things that sound really big," drummer Seaman says of the group's approach. "We want to sound different and set ourselves apart from other bands. A lot of bands now are trying to take risks and we wanted to bring something new to the table. We want to inspire and change the face of music."
Unlike the EP, which was initially cut and released as a demo when the band was only two months old, Lovers' Requiem is the result of seven months' hard work writing and recording. "If you like our EP, you'll like the new record 10 times more," Seaman says of the disc, which was recorded at Baskette's Virginia Beach facility. "It's more refined, it's cleaner sounding and it's not a demo. It will blow you away."
Named among Alternative Press' "100 Bands You Need To Know," I Am Ghost was discovered by founder Brett Gurewitz through its MySpace page and subsequently signed the group after witnessing its fourth show ever. Described as "
AFI
sinking their fangs into
Straylight Run
and letting the new goth-screamo blood run free," by
Revolver
, the band was also praised by Outburn for its "dynamic montage of all the modern heavy and agro styles, touching on punk, hardcore, emo, thrash and goth - all with a pop sensibility that won't quit."
More on I Am Ghost
HERE
.
Official I Am Ghost Website
I Am Ghost Tour Dates:
09.25.06-El Corazon - Seattle, WA
09.26.06-The Venue - Boise, ID
09.27.06-Club Boom Va- Ogden, UT
09.28.06-Bluebird Theater - Denver, CO
09.29.06-Aggie Theatre - Ft. Collins, CO
09.30.06-Launchpad - Albuquerque, NM
10.04.06-Neonopolis at Jillians - Las Vegas, NV
10.05.06-Temeku Theatre - Temecula, CA
10.06.06-Trilogy Theatre - Victorville, CA
10.07.06-Jerry's Pizza - Bakersfield, CA
10.15.06-Bamboozle Left-Cal Poly Pomona Athletic Field
10.16.06-The Clubhouse - Tempe, AZ
10.17.06-Club 101 - El Paso, TX
10.21.06-The Sanctuary - San Antonio, TX
10.22.06-The Door (DL) - Dallas, TX
10.24.06-The Back Booth - Orlando, FL
10.25.06-Ray's Downtown Blues - W. Palm Beach, FL
10.26.06-The State Theatre - St. Petersburg, FL
10.27.06-New Brookland Tavern - Columbia, SC
10.29.06-Ottobar - Baltimore, MD
10.31.06-First Unitarian Church - Philadelphia, PA
11.02.06-Webster Theatre - Hartford, CT
11.06.06-The Icon - Buffalo, NY
11.07.06-Agora Ballroom - Cleveland, OH
11.08.06-The Basement - Columbus, OH
11.09.06-St. Andrews Hall - Detroit, MI
11.11.06-Beat Kitchen - Chicago, IL
11.12.06-7th St. Entry - Minneapolis, MN
11.13.06-Sokol Underground - Omaha, NE
11.15.06-Creepy Crawl - St. Louis, MO
11.16.06-The Foundry - Joplin, MO
11.17.06-The Bottleneck - Lawrence, KS
11.21.06-Hawthorne Theatre - Portland, OR
11.24.06-The Pound - San Francisco, CA
11.25.06-The Boardwalk - Orangevale, CA
11.26.06-Soma - San Diego, CA
+more dates to come
Listen to:
"Our Friend Lazarus Sleeps":
Windows Media
"Dark Carnival Of The Immaculate":
Windows Media
(Streaming audio and/or video links may expire without notice)