'Hunger Games' Star Wes Bentley Talks About Girls' Fantasies, Good Pal Heath Ledger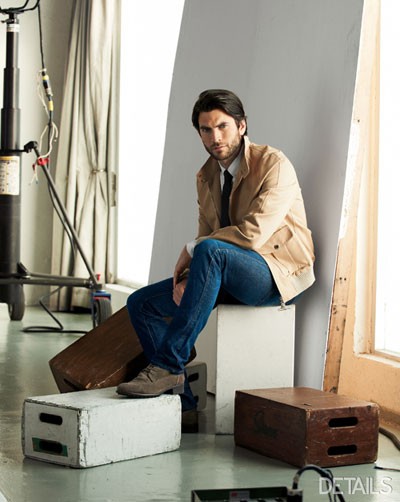 After substance abuse nearly derailed Wes Bentley's career, the former teen idol is back in a big way in spring's most anticipated blockbuster, "The Hunger Games."

Bentley became an overnight sensation thanks to his era-defining role in 1999's "American Beauty;" then, a drug-addled cautionary tale. But the 33-year-old actor is sober now and back in the saddle with the thriller "Gone."
Bentley is featured as "The Comeback" in the February issue of DETAILS magazine, on stands nationwide January 17. In the extended interview, available on Details.com, Bentley dishes on chilling with Lenny Kravitz, what he said to make Heath Ledger throw a laptop out a window, and how he finally got clean once and for all.   

On getting close with Lenny Kravitz, on of his costars in "The Hunger Games:"

"Lenny Kravitz and I really clicked. We'd talk about acting and music, about his life in the Bahamas, hurricanes. Also how much we love—and really miss—eating burgers. He was getting ready for a tour, so he couldn't, and I've been cutting back ever since I got sober."

On hearing from female fans that they would pleasure themselves while thinking of his "American Beauty" character, Ricky Fitts:
"I'd be like, 'Wow, okay.' It weirded me out. I wasn't interested in that at all. I never wanted to be a rock star."

On the impact of his friend, Heath Ledger:

"He was as close as a person could be to me without being my actual brother. We both had that thing in us—a bit of reckless fearlessness. Whenever we got together, especially early on, we were all about pushing ourselves to be better. Not just as actors, but with our lives, too—the way we approached relationships, reading and writing poetry..."[DETAILS: Did you read your poems to each other?] "No, but we did show each other our work. He wrote his poetry on the computer, I wrote mine by hand. One time—this was in London, early in the morning, and we'd been up all night—I was reading from his computer, and I turned to him and said, 'This is beautiful, man, but I hate reading on computers.' He walked right up, grabbed the laptop, snapped it over his knee, and threw it off the balcony. Then he looked down and went, 'Oh fuck. Shouldn't have done that.'"

On being a father to his 1-year-old son, Charles:

"I feel so aware of everything—for his sake. Babies are all emotions, so I'm aware of reason because I have to protect him from his lack of reason. I'm aware of society, because I'm getting ready to send him off into it. And I'm aware of what I'm eating because I want to influence the way he eats. It's truly being alive."
Read the full Q&A HERE!