'Hunger Games' Star Josh Hutcherson's New Movie Opens In 10 Cities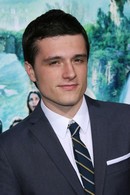 Josh Hutcherson's last movie opened worldwide and has broken box office records. Before he made The Hunger Games, Josh Hutcherson starred in and executive produced the indie movie Detention. This weekend the film opens in 10 cities – AMC Theaters in Atlanta, Boston, Chicago, Houston, Los Angeles, Miami, New York, San Diego, San Francisco, Seattle, Toronto and Halifax.
Team Peeta might be interested in his new character, the cool high school kid Clapton Davis. "I would never get to play Clapton Davis in a big budget studio film," Hutcherson said. "So there's a lot of characters that you can get into that don't exist in the studio world."
Clapton fights for the girl of his dreams while a killer stalks the high school, and the film is full of references to movies and music from the '90s through now.
"The reason why I was attracted to it was because it was unlike anything I've ever read before. I feel like so many times I'm reading the same script just with different little pieces over and over again. This is a whole new way of making a movie and that's one of the big things that attracted to me."
As his star rises, Hutcherson wants people to see him do different things, and Detention so a leading man role in a horror-comedy adds to his resume. "Longevity comes with versatility as an actor," Hutcherson said. "For me, I love making this kind of movie and no matter how big Hunger Games ever gets or will get with other films, doing this kind of thing is something that I love doing. Just the vibe on set, the stories you get to tell with indies, there's nothing in the world like it. I kind of, in my opinion, like doing indies more so than studio films but it's important to do both I think to keep your career [going]."
Among many of Clapton's cool skills, Hutcherson picked up some new ones himself. "I had to actually learn how to unicycle for this. That's a cool experience and something I've never thought I would do. Actually, I'm really good at unicycling. I can go for a while and turn and come back down. I had a unicycle in my trunk for the two months that we were filming." 
See Josh Hutcherson unicycle in Detention. For tickets visit www.amctheaters.com.