Hundreds Of Life-Size David Hasselhoff Cutouts Stolen From Convenience Store Chain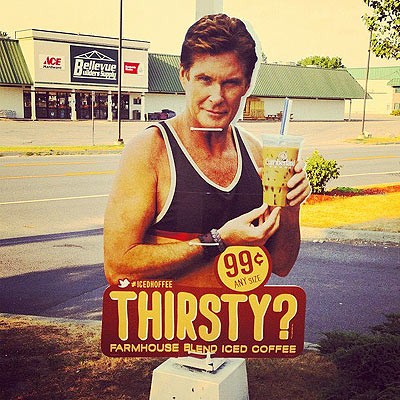 David Hasselhoff is the new face of New England convenience store chain Cumberland Farms' new iced coffee campaign, and his new promo has become a hot item in the region. In fact it's become so hot that out of 570 life-sized cutouts of the star that the company had printed to promote their new Farmhouse Blend iced coffee, a whopping 550 of them have been stolen.

The Hoff even tweeted his approval after hearing about the thefts; writing, "Ripped Hoff! Congrats to all those who stole my poster from Cumberland farms! You guys rock!"

The company, which plans on printing replacement ads for their stores, released a statement; saying, "Although we are flattered our customers have become attached to our iced coffee ads, we do not encourage theft.

"The Hoff is there for all to enjoy."

One store employee told CNN affiliate WHDH-TV that they get customers asking if they can buy the Hasselhoff poster just about every night. "It's crazy," she says.


"It's cool and it kind of humbles me that people are still following David Hasselhoff after all these years," Hasselhoff told Boston's WHDH news. "I just hope nobody gets in trouble but I encourage everybody to go out and see what they can do about stealing a Hoff but please have a cup of coffee while doing it."

When the Baywatch first heard the news it confused him.

"I looked at the report this morning that said 'ripped Hoff' and I thought, 'Aw that's nice, they're saying I'm still in good shape,' And then I realized people were stealing me," he said.

The company isn't angry with fans' devotion to the Hoff, but they are concerned about the fate of the cutouts.

Cumby's brand strategist Kate Ngo tells the Associated Press, "We want to know at least the Hasselhoff is safe and he's being taken care of.

At press time, the stolen Hoff poster toll had climbed to 551, as the one near our offices seemingly went missing overnight. We had actually considered stealing ourselves.