Humanity's Last Hope Rests On A Gun-Legged Go-Go Girl In 'Planet Terror,' On DVD Oct. 16

Busting at the seams with outrageous action sequences, deliciously over-the-top characters and gross special effects,
Robert Rodriguez
's (
Sin City
,
Once Upon a Time in Mexico
)
Grindhouse
Presents
Planet Terror
explodes onto DVD as a two-disc extended and unrated edition on October 16 from Genius Products LLC. and The Weinstein Company.
Rose McGowan
(
Charmed
,
Scream
,
The Black Dahlia
) and
Freddy Rodriguez
(
Bobby
,
Six Feet Under
) give stunning performances as go-go girl-turned-vigilante Cherry Darling and one-man wrecking crew El Wray as they try to save the world from a horde of flesh-eating zombies. In a small rural Texas town, a conclave of uniquely bizarre characters unite against an impending threat of aggressors:
Jeff Fahey
(
The Lawnmower Man
) stars as a barbecue-obsessed business-owner;
Michael Biehn
(
The Terminator
,
Aliens
) as a stoic and suspicious sheriff;
Marley Shelton
(
Sin City
,
Never Been Kissed
) stars as a syringe-wielding, wobbly-wristed doctor on the run from her abusive husband, played by
Josh Brolin
(
Hollow Man
,
Into The Blue
), and Electra and Elise Avellán give frightening performances as psychotic identical twin babysitters. The film also features performances from
Bruce Willis
(
Sin City
,
Live Free or Die Hard
) and
Stacy Ferguson
(
Black Eyed Peas
). Featuring an extended version of the film, including the missing reel, the
Grindhouse Presents Planet Terror
DVD oozes with bonus footage including audio commentary from writer/director Rodriguez, The Badass Babes of Planet Terror featurette and much more (see below for details).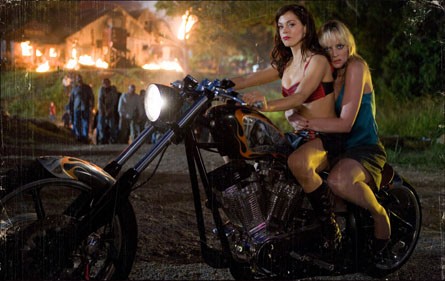 In 'Planet Terror' married doctors William and Dakota Block (Brolin and Shelton) find their graveyard shift inundated with townspeople ravaged by gangrenous sores and a suspiciously vacant look in their eyes. Among the wounded is Cherry (Rose McGowan), a go-go dancer whose leg was ripped from her body during a roadside attack. Wray (Freddy Rodriguez), her former significant other, is at her side and watching her back. Cherry may be down, but she hasn't danced her last number. As the invalids quickly become enraged aggressors, Cherry and Wray lead a team of accidental warriors into the night, hurtling towards a destiny that will leave millions infected, countless dead, and a lucky few struggling to find the last safe corner of 'Planet Terror.'
Special Features
- Feature Length Audio Commentary By Writer/Director Robert Rodriguez
- Audience Screening Track
- 10 Minute Film School
- Sickos, Bullets And Explosions: The Stunts Of Planet Terror
- The Badass Babes Of Planet Terror
- Casting Robert Rodriguez's Son Rebel
- The Guys Of Planet Terror
- The Friend, The Doctor And The Real Estate Agent
- International Poster Gallery and International Trailer
-
Pictures from both Grindhouse films, 'Planet Terror' and 'Death Proof'
-
More on the DVD release of 'Death Proof'
About Genius Products
Genius Products, Inc, along with The Weinstein Company Holdings LLC, together owns Genius Products, LLC, a leading independent home-entertainment distribution company that produces, licenses and distributes a valuable library of motion pictures, television programming, family, lifestyle and trend entertainment on DVD and other emerging platforms through its expansive network of retailers throughout the U.S. Genius handles the distribution, marketing and sales for such brands as Asia Extreme™, Discovery Kids™, Dragon Dynasty™ , Dimension Films™, ESPN®, IFC®, RHI Entertainment™, Sesame Workshop®, The Weinstein Company® and WWE®. Genius Products, Inc. is the managing member of Genius Products, LLC, in which it holds a 30% equity interest.
About The Weinstein Company
The Weinstein Company was created by Bob and Harvey Weinstein, the brothers who founded Miramax Films Corp. in 1979. TWC is a multi-media company that officially launched on October 1, 2005. Dimension Films, the genre label that was founded in 1993 by Bob Weinstein, is also included under TWC banner. The Weinsteins are actively working on the production, development and acquisition of projects for TWC.