'Human Target' 2.03 'Taking Ames' Recap And Review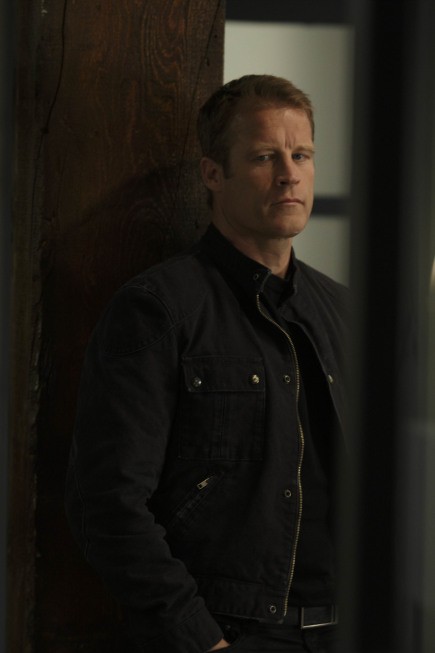 The writers of Human Target are a crafty bunch. Last week, they responded to all of our thoughts and fears about the new cast additions by writing almost all of them into the episode; this week, they continue their campaign to win us over by devoting an entire episode to newcomer Ames.
Ames does a favor for her oldest and dearest friend Brody (J.D. Pardo, who played Sean on FOX's short-lived Drive), and by "favor" I mean that she helps him steal explosives and then literally blow out the back door. Her regression into her criminal past shouldn't be surprising to anyone. It's certainly not surprising to Chance, who's been checking up on her after-hours activities. He's seen the whole thing go down, and follows her from the scene of the crime, finally confronting her in an empty parking lot. Busted. (Amusingly, Mark Valley doesn't even suffer from helmet hair. I swear the man is perfect.)
When news of Ames' off the clock venture becomes public, she finds herself in a whole lot of hot water with the team, and deservedly so. As Winston points out at the beginning of his tirade (which is almost as if Chi McBride''s channeling his days as the principal on Boston Public), the only reason she's there is because they vouched for her to Ilsa in the premiere episode and kept her out of jail in Geneva. Neither he nor Chance are particularly moved by her flippant apologies or her pleas that Brody needed her help. Maybe if she toned down the attitude that seems to come with every word she says, she'd have better luck.
Brody, meanwhile, has the stolen explosives and is walking into a very empty garage, which is always the place one wants to find themselves alone. He's there to meet Andre Markus (24's Hakeem Kae-Kazim) and deliver the goods, saying something about how he wants to "settle up." Considering that our first glimpse of Markus comes when he's leaving a room where someone is being beaten up, this is not the kind of man you want to be in debt to. Markus wants to know about Ames, as he's interested in bringing her aboard his team.
Read the full recap and review here. Don't forget to check out the trivia and tidbits for this episode in this week's installment of The Human Target File.