'Human Centipede 2' Banned Down Under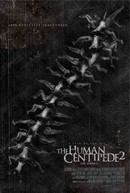 The gruesome Human Centipede sequel has been banned in Australia due to its graphic content.

Human Centipede 2: Full Sequence, which was banned in Britain this year before film bosses agreed to re-edit it, was premiered at the Brisbane International Film Festival in early November and was initially given a restrictive adults only R18-plus rating.

However, on Monday, officials at Australia's Classification Board refused to give the horror movie a rating due to its "gratuitous, exploitative or offensive depictions of violence," meaning the film cannot be shown in Australian cinemas.

The decision has been welcomed by campaigners of Christian group FamilyVoice Australia, who previously urged the film board to ban the movie.

FamilyVoice Australia spokeswoman Ros Phillips tells the Brisbane Times, "Earlier this year we were shocked to learn that the uncut version of this horrific film had been passed by Australia's Classification Board as R18-plus - but had been banned by the British Board of Film Classification."
"On behalf of Australian families, we thank the Board for its unanimous agreement. Pornography based on human torture has no place on Australian screens."

The follow-up to Tom Six's 2009 movie tells the story of a film fan who becomes so obsessed with the first installment, he copies the premise of sewing humans together to form a "centipede".