Human Barbie Doll Valeria Lukyanova Says Race Mixing Makes Humans Uglier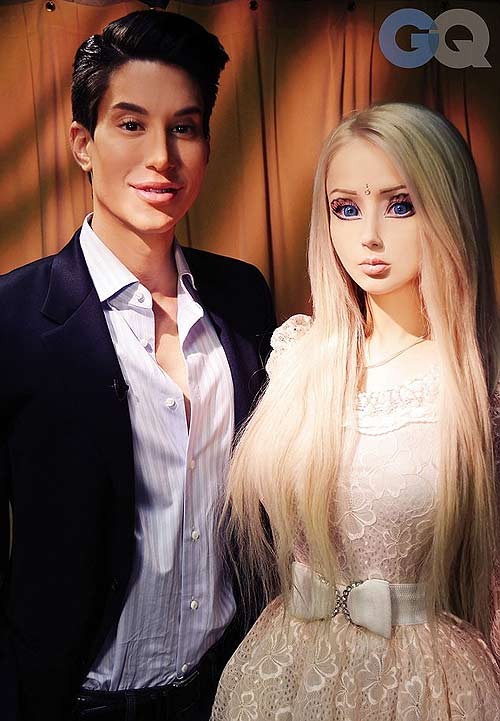 While Valeria claims that she's had only one procedure done, her counterpart, Justin Jedlica, aka the Human Ken Doll, has had a lot more work done. Jedlica claims that he's had 140 surgeries to look like Ken, including getting chest and shoulder implants (the latter of which are his favorite feature).

But as far as Human Barbie goes, Justin says he's not a fan.

"We met at a photo shoot. She's a cute girl," he tells GQ. "I don't really get her. I don't get why people think she's so interesting. She has extensions. She wears stage makeup. She's an illusionist."

Justin says he works with a silicone fabrication company to make his implants and hopes that some of them will some day be available for plastic surgeons to use on future human Ken dolls.

He also adds that he's happy with the results he's gotten.

"I always wanted to be on Lifestyles of the Rich and Famous, and you know... I'm kind of famous and I'm kind of rich," he adds.

But the real life Barbie and Ken won't be getting together any time soon -- Justin currently lives with his husband in Chicago, and Valeria wants nothing to do with having her own family.

"It's unacceptable to me. The very idea of having children brings out this deep revulsion in me," she explains. "I'd rather die from torture because the worst thing in the world is to have a family lifestyle."

Something tells us she won't ever have to worry about that.

See more pics of Valeria here.