Hulk Hogan's Daughter Brooke Engaged To Dallas Cowboy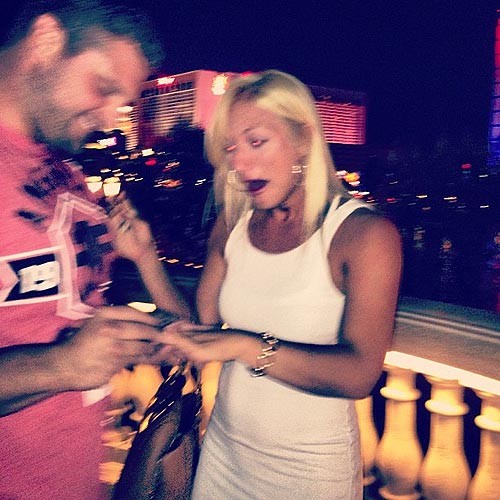 Brooke Hogan, daughter of legendary WWE wrestler Hulk Hogan, has gotten engaged to Dallas Cowboys offensive lineman Phil Costa.

The couple were engaged Saturday evening at the Bellagio Resort & Casino in Las Vegas, when Costa, who obviously dressed for the occasion, popped the question on the terrace overlooking the resort's signature fountains. The skyline of the Paris Las Vegas Hotel and Casino, featuring a replica of the Eiffel Tower, can be seen in the background.

"Happiest moment of my LIFE," the singer tweeted. "I am marrying my best friend. I wouldn't choose anyone else. I am so lucky and so grateful."

George Mavrikes, Costa's agent, confirmed the couple's engagement on Monday (as if photographic proof wasn't enough).

Unfortunately for Costa, an injury-plagued 2012 season could cost him his starting job with the Cowboys. He played in only three games last season and during April's NFL draft, the Cowboys chose center Travis Frederick with their first round pick.