Hulk Hogan Taken To The Cleaners In Divorce Settlement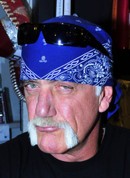 Wrestler Hulk Hogan has settled his financial issues with his ex-wife Linda following their divorce in 2009.

Linda Bollea filed for divorce in 2007 after 23 years of marriage and their union was officially declared over in 2009.

But the former couple continued to fight over money and now court records reveal the pair has finally struck a deal.

Under the terms of the settlement, Bollea has been handed just over 70 per cent of their liquid assets, while Hogan has agreed to give his ex a 40 per cent ownership stake in his numerous companies.

Bollea, who does not receive alimony, will also be given property worth $3 million.

Hogan has since remarried - he wed Jennifer McDaniel at their Clearwater, Florida home last December.