Hulk Hogan Suing Ex-Wife For Defamation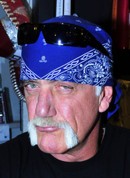 Wrestler Hulk Hogan has launched a defamation lawsuit against his ex-wife, accusing her of lying about him in her memoir.

Hogan, real name Terry Bollea, has claimed Linda attempted to revive her career by writing false statements in her book, Wrestling the Hulk - My Life Against the Ropes, and spreading rumors about their marriage during her promotional tour for the tome.

In the novel, Linda accuses the sportsman of physically abusing her and engaging in homosexual encounters.
 
Her salacious account has prompted Hogan to take legal action in a bid to clear his name and the wrestling icon filed papers in Florida on Thursday, according to local paper The St. Petersburg Times.

Linda Bollea filed for divorce in 2007 after 23 years of marriage and their union was officially declared over in 2009.