Hulk Hogan Sues Website & Bubba The Love Sponge For $100 Million Over Sex Tape Leak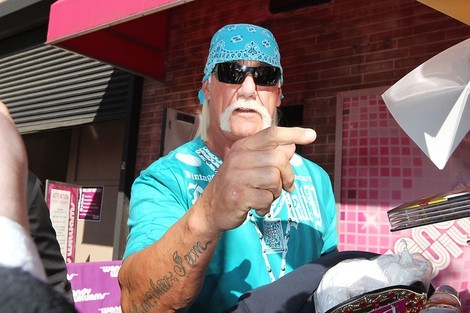 At a news conference in Tampa, Florida, on Monday a lawyer for Hulk Hogan announced that the wrestler has filed two lawsuits in relation to a sex tape that appeared on website Gawker.com earlier this month.
The intimate footage features Hogan, real name Terry Bollea, and Heather Clem, the ex-wife of wrestler and radio personality Bubba the Love Sponge.
In an attempt to track down the person responsible for the leak, Hogan, 59, filed a criminal report in Florida and also contacted the FBI. The wrestler is now seeking $100 million in damages from Gawker.com bosses and Clem and her husband.
Hogan claims he "had a reasonable expectation of privacy in his consensual, intimate activities in a private bedroom and reasonably believed that his privacy was safe and protected," according to TMZ.com.
The wrestler's lawyer says the recording of the footage was "illegal, outrageous, and exceeded the bounds of human decency."
 
Hogan wants the sex tape to be destroyed.