'Hugo' & 'The Artist' Lead 2012 Oscar Nominations (See Full List)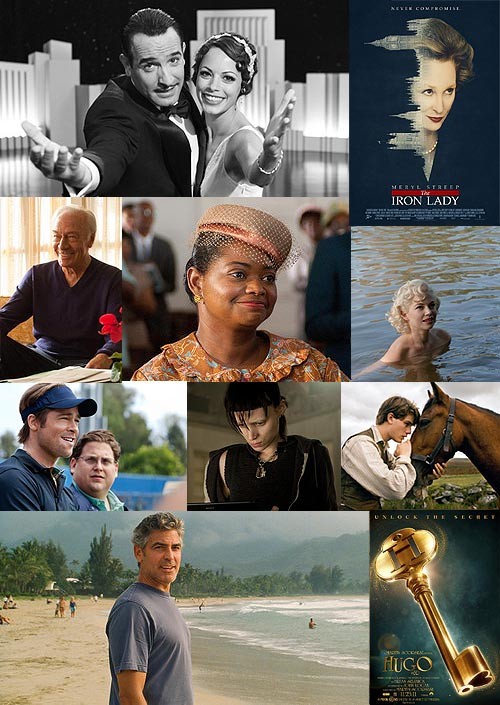 Martin Scorsese's first foray into 3D filmmaking, Hugo and director Michel Hazanavicius' black & white silent comedy-drama The Artist topped this year's list of nominations, pulling in 11 and 10 nominations, respectively, for the 2012 Academy Awards.

Both films are nominated for Best Picture, Director, and Screenplay awards.

Jennifer Lawrence, who was nominated for a Best Actress Oscar last year for her role in Winter's Bone and stars in the upcoming, highly anticipated The Hunger Games, joined the Academy of Motion Picture Arts and Sciences president Tom Sherak in Beverly Hills to announce the nominations for the 10 biggest categories of the 2012 Academy Awards this morning. The press conference was held at the Samuel Goldwyn Theater.

After landing four Golden Globes nominations (winning three), amassing 12 BAFTA nominations and winning the top prize at this year's Producer's Guild Awards, now it seems the film will face heavy contention from Scorsese's 1930s tale of an orphan living in the walls of a train station.

The Girl With the Dragon Tattoo received five nods, including one for Best Actress (Rooney Mara); and Brad Pitt's baseball flick Moneyball also received five nominations. Steven Spielberg's World War I drama War Horse and The Help each garnered four nominations each.

This year the Academy has revamped last year's new rule in the Best Picture category and instead of 10 films receiving nominations for the award there can now be anywhere between five and 10 films receiving nods, depending on how many number-one votes each film received on Academy voters' ballots.

Nine films are nominated in the category this year.

The 84th Academy Awards, hosted by Billy Crystal, air on ABC Sunday, February 26 at 7pm (EST).


The full list of 2012 Academy Award Nominees Is:

BEST PICTURE
War Horse
The Artist
Moneyball
The Descendants
The Tree of Life
Midnight in Paris
The Help
Hugo
Extremely Loud and Incredibly Close

BEST DIRECTOR
Michel Hazanavicius, The Artist
Alexander Payne, The Descendants
Martin Scorsese, Hugo
Woody Allen, Midnight in Paris
Terrence Malick, The Tree of Life

BEST ACTOR
Demian Bichir, A Better Life
George Clooney, The Descendants
Jean Dujardin, The Artist
Brad Pitt, Moneyball
Gary Oldman, Tinker Tailor Soldier Spy

BEST ACTRESS
Viola Davis, The Help
Michelle Williams, My Week With Marilyn
Meryl Streep, The Iron Lady
Rooney Mara, The Girl With the Dragon Tattoo
Glenn Close, Albert Nobbs

BEST SUPPORTING ACTOR
Christopher Plummer, Beginners
Kenneth Branagh, My Week With Marilyn
Max Von Sydow, Extremely Loud and Incredibly Close
Jonah Hill, Moneyball
Nick Nolte, Warrior

BEST SUPPORTING ACTRESS
Berenice Bejo, The Artist
Jessica Chastain, The Help
Melissa McCarthy, Bridesmaids
Janet McTeer, Albert Nobbs
Octavia Spencer, The Help

BEST ORIGINAL SCREENPLAY
Michel Hazanavicius, The Artist
Woody Allen, Midnight in Paris
JC Chandor, Margin Call
Kristen Wiig & Annie Mumulo, Bridesmaids
Asghar Farhadi, A Separation

BEST ADAPTED SCREENPLAY
Nat Faxon, Alexander Payne & Jim Rash, The Descendants
John Logan, Hugo
George Clooney & Grant Heslov, The Ides of March
Aaron Sorkin & Steven Zaillian, Moneyball
Bridget O'Connor & Peter Straughan, Tinker, Tailor Soldier Spy

BEST FOREIGN LANGUAGE FILM
A Separation (Iran)
In Darkness (Poland)
Monsieur Lazhar (Canada)
Footnote (Israel)
Bullhead (Belgium)

BEST ANIMATED FEATURE
A Cat In Paris
Chico & Rita
Kung Fu Panda 2
Puss in Boots
Rango

BEST DOCUMENTARY FEATURE
Hell and Back Again
If A Tree Falls: A Story Of The Earth Liberation Front
Paradise Lost 3
Pina
Undefeated

BEST DOCUMENTARY SHORT SUBJECT
The Barber Of Birmingham: Foot Soldier Of The Civil Rights Movement
God Is The Bigger Elvis
Incident In New Baghdad
Saving Face
The Tsunami And The Cherry Blossom

BEST CINEMATOGRAPHY
The Artist
The Girl With The Dragon Tattoo
The Tree of Life
Hugo
War Horse

BEST FILM EDITING
The Artist
The Descendants
The Girl With The Dragon Tattoo
Hugo
Moneyball

BEST ART DIRECTION
Hugo
The Artist
Harry Potter and the Deathly Hallows: Part 2
War Horse
Midnight In Paris

BEST COSTUME DESIGN
Anonymous
The Artist
Jane Eyre
Hugo
W.E.

BEST ORIGINAL SONG
"Man or Muppet" (The Muppets)
"Real In Rio" (Rio)

BEST ORIGINAL SCORE
The Artist
The Adventures of Tintin
War Horse
Hugo
Tinker, Tailor, Soldier, Spy

BEST SOUND MIXING
War Horse
The Girl With The Dragon Tattoo
Transformers: Dark Of The Moon
Hugo
Moneyball

BEST SOUND EDITING
Drive
The Girl With The Dragon Tattoo
Hugo
Transformers: Dark Of The Moon
War Horse

BEST VISUAL EFFECTS
Harry Potter and the Deathly Hallows, Part 2
Rise of the Planet of the Apes
Hugo
Transformers: Dark Side of the Moon
Real Steel

BEST MAKEUP
The Iron Lady
Harry Potter and the Deathly Hallows, Part 2
Albert Nobbs