Hugh Jackman Thinks 'Les Miserables' Will Be In 3D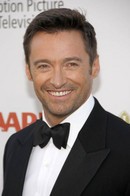 The movie musical version of hit stageshow Les Miserables looks set to be a 3D affair, according to its star Hugh Jackman.

The Aussie actor, who will play Jean Valjean in the film, reveals producers and director Tom Hooper are looking at the latest 3D technology with a view to giving the project a series of eye-popping effects.

He tells Collider.com, "It's in discussion. Honestly, that's probably gonna be part of what the tests are about, to see what that does."