Hugh Jackman Has Skin Cancer Surgery Again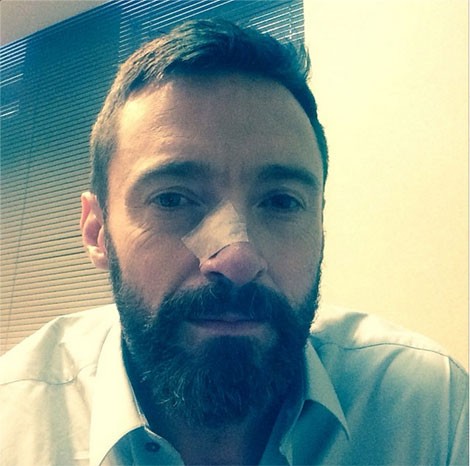 Actor Hugh Jackman posted a photo of himself on Instagram on Thursday wearing a bandage over his nose following surgery to remove a Basel Cell Carsinoma (BCC).
He captioned the image: "Another Basel Cell Carsinoma. All out now. Thanks Dr. Albom and Dr. Arian. PLEASE! PLEASE! WEAR SUNSCREEN!."
He added on Twitter: "Huge thanks to Dr. Arian and Dr. Born for operating on my nose until 10:20pm! #SUNSCREEN"
Jackman had cancerous cells removed in November as well.
According to the Skin Cancer Foundation, BCC is a treatable and common form of skin cancer.  It is identified by lesions or growths on the outermost layer of the skin that "often look like open sores, red patches, pink growths, shiny bumps, or scars" and are "usually caused by a combination of cumulative UV exposure and intense, occasional UV exposure."
If BCC isn't treated properly, it can disfigure the body.
The actor's wife, Deborra-Lee Furness, was the one who urged Jackman to seek medical attention after she noticed a strange mark on his nose.
Jackman tweeted: ''Boy, was she right! I had basil cell carcinoma. Please don't be foolish like me. Get yourself checked. And USE sunscreen!!!''

Jackman stars in "X-Men: Days of Future Past," which hits theaters on May 23.