Hugh Jackman Gets Some Sun & Has Some Fun With His Kids On The Beach In France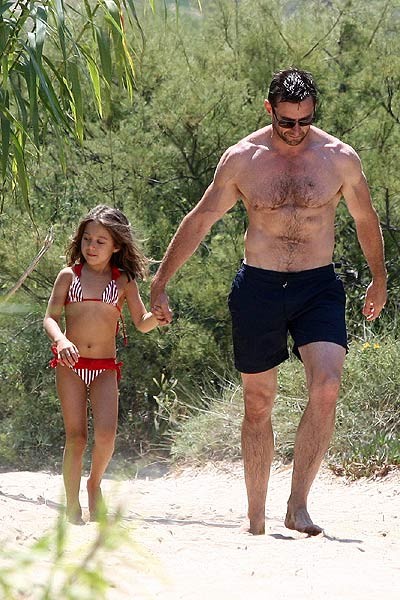 Hugh Jackman spent the day Sunday playing with his children on the beach in St. Tropez.

The X-Men Origins: Wolverine star showed off his toned body while frolicking with daughter Ava and son Oscar at the south France hot spot.

Last week Jackman was promoting upcoming his upcoming "Rock-em Sock-em Robots" influenced film Real Steel at San Diego's annual Comic Con, and was asked about upcoming X-Men sequel Wolverine.

Script is done for Wolverine," he tells Access Hollywood. "[T]his afternoon – [I'm] going to be meeting up with the director James Mangold."

Shooting for the film begins in October and Jackman says he's "very excited about it."

Wolverine's villain has long been rumored to be X-Men character Kenuichio Harada a.k.a. "Silver Samurai," and Jackman confirmed that rumor at the event.