Hugh Jackman And PSY Do 'Gangnam Style' On Set Of 'The Wolverine'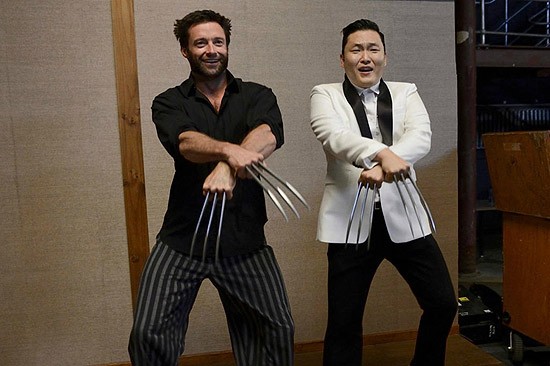 X-Men's Wolverine has gotten into the latest dance craze that's been sweeping the world over, thanks to PSY's hit single "Gangnam Style."

The Korean singer joined actor Hugh Jackman for a little song and dance and gave the star a lesson on how to do his famous horse-riding dance on the Australian set of next year's sequel to X-Men Origins: Wolverine.

Jackman stayed in character and PSY donned his own set of the iconic superhero's claws and they both posted photos to their twitter pages.

"Had a great time with @RealHughJackman #GangnamStyleWolverine~!!! lol," PSY writes

"Slicing gangnam style!!!! Great to meet @psy_oppa who visited set yesterday," said Jackman.

Last week, Hugh celebrated his 44th birthday and the film's crew helped him celebrate by giving him a cake featuring his character riding a surfboard on a big wave.

"The best cake ever! From the guys and gals in the production office! Going to eat the claws first!!!!" He Tweeted, along with a picture.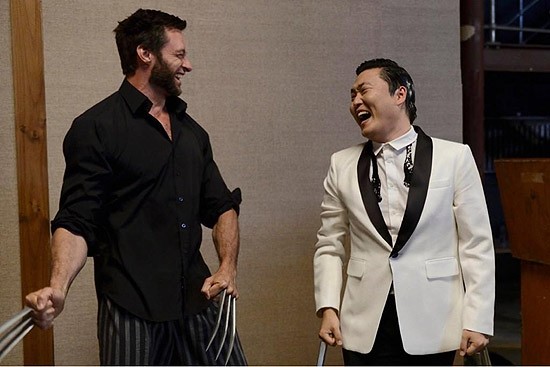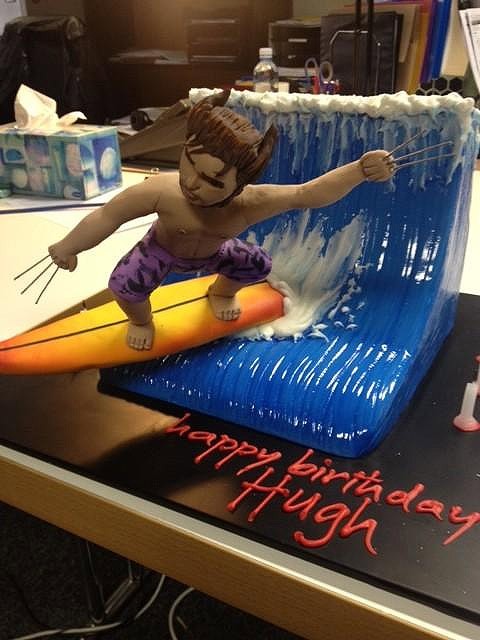 Had a great time with @realhughjackman#GangnamStyleWolverine~!!! lol twitter.com/psy_oppa/statu…

— PSY (@psy_oppa) October 16, 2012
Slicing gangnam style!!!! Great to meet @psy_oppa who visited set yesterday. twitter.com/RealHughJackma…

— Hugh Jackman (@RealHughJackman) October 16, 2012
The best cake ever! From the guys and gals in the production office! Going to eat the claws first!!!! twitter.com/RealHughJackma…

— Hugh Jackman (@RealHughJackman) October 12, 2012