Hugh Jackman And 'Once' Triumph At 2012 Tony Awards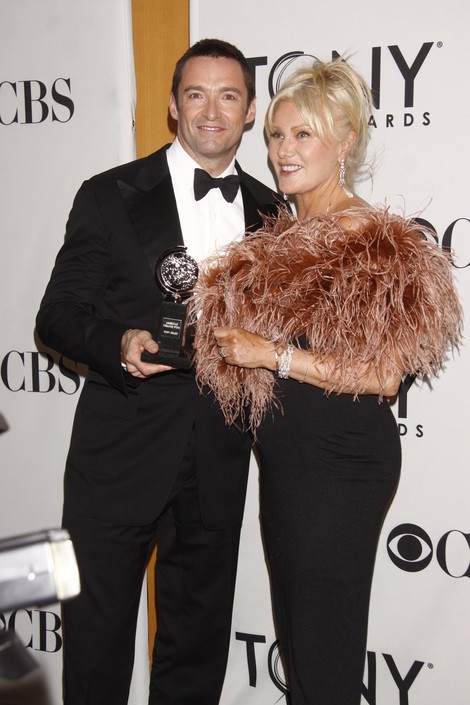 Hugh Jackman had a very special night at the Tony Awards on Sunday - his actress wife Deborra-Lee Furness surprised him with the Special Tony Award for his work onstage.

The Australian actor jetted to his adopted New York City for the prizegiving during a break in the filming of Les Miserables in Europe and was left speechless when his partner strutted out onstage to honor her "special man" with one of the night's big trophies.

Furness admitted she was thrilled to have her husband back after four months of filming on location, but she joked, "There's nothing more romantic after not seeing your husband for four months than to have our first night back together on a Broadway stage with 12 million people watching."
The actor stepped up onstage and told the audience, "She's (Furness) never kept a secret her entire life. (She said), 'I'm just off to the loo (restroom),' and I was like, 'OK, see you in a bit!'"

Jackman ended his acceptance speech by urging his "incredible" wife to share the spotlight with him and told her, "I love you with all my heart. I know how much you hate public speaking; this is probably the greatest thing you've ever done for me. Really. It means the world to me."

He wasn't the only actor paying a heartfelt tribute to his partner at the Tonys - British comedian James Corden singled out his girlfriend Julia Carey for a special mention during his Best Actor acceptance speech.

He said, "My girlfriend, Julia, gave birth to our son, like, five days before we started rehearsals and she's my baby momma and I can't wait to marry her. I would not be holding this if it wasn't for her. She made me say 'us' instead of 'I' and 'we' instead of 'me' and I love her."

Elsewhere, it was a huge night for the stage musical adaptation of hit movie Once, which picked up eight of its 10 nominations, including Best Musical and Best Actor in a Musical for star Steve Kazee.

Peter & the Starcatcher was another big hit at the Tonys, claiming four awards, while Arthur Miller's Death of a Salesman, The Gershwin's Porgy & Bess, Newsies, and Nice Work if you Can Get It picked up two gongs apiece.

The list of winners:
 
Best Performance by an Actress in a Featured Role in a Play - Judith Light (Other Desert Cities)
 Best Orchestrations - Martin Lowe (Once)
 Best Choreography - Christopher Gattelli (Newsies)
 Best Performance by an Actor in a Featured Role in a Musical - Michael McGraw (Nice Work if You Can Get It)
 Best Book of a Musical - Enda Walsh (Once)
 Best Sound Design of a Play - Darron L West (Peter & the Starcatcher)
 Best Sound Design of a Musical - Clive Goodwin (Once)
 Best Direction of a Musical - John Tiffany (Once)
 Best Direction of a Play - Mike Nichols (Arthur Miller's Death of a Salesman)
 Best Performance by an Actor in a Featured Role in a Play - Christian Borle (Peter & the Starcatcher)
 Best Performance by an Actress in a Featured Role in a Musical - Judy Kaye (Nice Work if You Can Get It)
 Best Costume Design of a Play - Paloma Young (Peter & the Starcatcher)
 Best Costume Design of a Musical - Gregg Barnes (Follies)
 Best Original Score - Alan Menken & Jack Feldman (Newsies)
 Best Revival of a Play - Arthur Miller's Death of a Salesman
 Best Scenic Design of a Play - Donyale Werle (Peter & the Starcatcher)
 Best Scenic Design of a Musical - Bob Crowley (Once)
 Best Lighting Design of a Musical - Natasha Katz (Once)
 Best Play - Clybourne Park
 Best Revival of a Musical - The Gershwin's Porgy & Bess
 Best Performance by an Actor in a Leading Role in a Musical - Steve Kazee (Once)
 Best Performance by an Actor in a Leading Role in a Play - James Corden (One Man, Two Guvnors)
 Best Performance by an Actress in a Leading Role in a Play - Nina Arianda (Venus in Fur)
 Best Performance by an Actress in a Leading Role in a Musical - Audra McDonald (The Gershwin's Porgy & Bess)
 Best Musical - Once
 Lifetime Achievement Award - Emanuel Azenberg
 Regional Theatre Award - The Shakespeare Theatre Company, Washington, D.C.
 Isabelle Stevenson Award - Bernadette Peters
 Special Tony Award - Hugh Jackman