Hugh Hefner Thrilled At The Thought Of Kim Kardashian Posing Nude For Playboy Again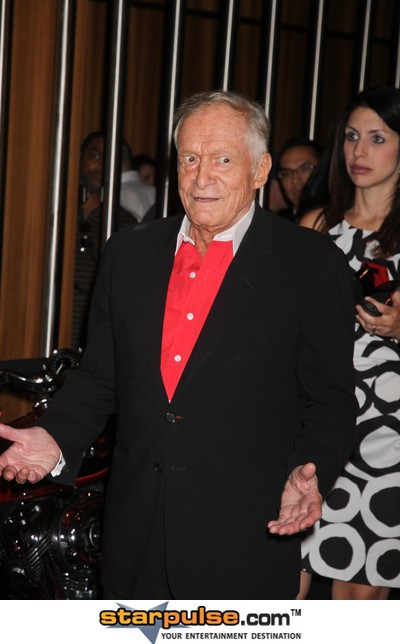 Playboy boss Hugh Hefner loves the idea of reality star Kim Kardashian posing nude in his magazine for a second time.

The media mogul heard about Kim's recent comments that she wants to show off her post-baby body on the pages of his magazine again, calling the news "very exciting."

During Sunday night's episode of Keeping Up With the Kardashians, Kim told sisters Khloe and Kourtney that she wants to show the world that she's feeling really confident these days.

"I just wanna come out to the world, like, naked and be, like, [she flips both middle fingers] 'I look so hot. I'm back. You all called me a whale, Shamu, a cow...'"

Hef got word of what she said and tweeted, "@KimKardashian is looking to make it back onto the cover of Playboy, very exciting."

The tweet was quickly removed after, but not before it was retweeted by thousands.

Kim posed nude for the December 2007 issue of the magazine and has said that she really didn't care much for the experience, but during her pregnancy she was taped saying that after she gave birth she wanted to "do Playboy or some nude shoot."

Sunday night she also revealed that she checked herself out after giving birth, hinting that she'll be showing off a little more this time if her wish comes to fruition.

"When I came back from the hospital the first thing I did was go look at my vag in the mirror," she said. "It looks better-looking than before."

Sounds like some phone calls will be made soon.