Howard Stern Replacing Piers Morgan On 'America's Got Talent'?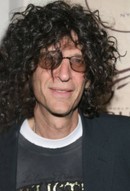 Notorious shock jock Howard Stern has fueled reports he's in talks to replace newsman Piers Morgan as a judge on hit TV show America's Got Talent by telling radio listeners he's a big fan of the program.

Morgan announced he would be stepping down as a judge earlier this month and Stern quickly became the favorite to step in and join Howie Mandel and Sharon Osbourne on the talent show.

And during his daily satellite show on Monday, Stern admitted he was open to the idea of becoming a TV judge - but he didn't think it was in his future.

He told his listeners, "I love America's Got Talent... and I would be certainly honored to sit with Howie and Sharon and judge these lunatics.

"I am not the next judge. I have no deal... I'm not gonna comment on whether I'm in a negotiation... I don't comment on negotiations."

But he insisted he'd be a non-nonsense judge - and as a result he might not be a popular choice.

He added, "I take show business very seriously. If I were a judge on there it'd be no nonsense whatsoever... I would be there for the talent, I would be there to actually find somebody good."