Howard Stern Makes Seven-Year-Old Aspiring Rapper Mir Money Cry On 'America's Got Talent'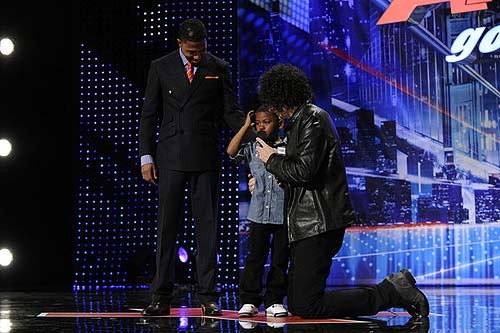 Howard Stern found out how tough his new job is going to be during Monday night's episode of America's Got Talent.

During only his second show, the shock jock was thrown a curveball when seven-year-old aspiring rapper Mir Money took the stage to audition - and ended up in tears and with Stern questioning his decision to sign on with the show.

Stern pressed his "X" buzzer early on during the youngster's performance and was followed shortly after by fellow judge Sharon Osbourne
When Mir Money stopped his performance judge Howie Mandel asked the boy if he was angry, which he said he wasn't. But when Stern began to explain the reason for his decision the adorable aspiring rapper began to cry.

"No one likes hitting the 'X' on a seven-year-old," he began, "you're very brave to get up there at seven years old."

The crowd immediately began to boo Stern; and host Nick Cannon said, "That's a mean man!"

The radio DJ then took to the stage to smooth things over, giving Mir Money a hug and apologizing.

"You're a terrific young man. You are so brave," he said, before turning to the audience and adding, "This job is too rough for me. I don't really want to do it anymore..."

"I've met many great rappers," he continued telling the boy, "none of them are quite as good as you!"

After the kid left the stage - carried off by Cannon - Stern said he was "shaking" and not "cut out" for the job. He even looked for radio co-host Robin Quivers in the audience, telling her, "Robin, radio is for me. I made a mistake. This is not for me..."

"I feel horrible."

Stern replaced former judge Piers Morgan, who left the show after the last season for his own show on news network CNN.

Watch Mir Money's audition below...