Howard Stern Makes An Excellent Addition To 'America's Got Talent'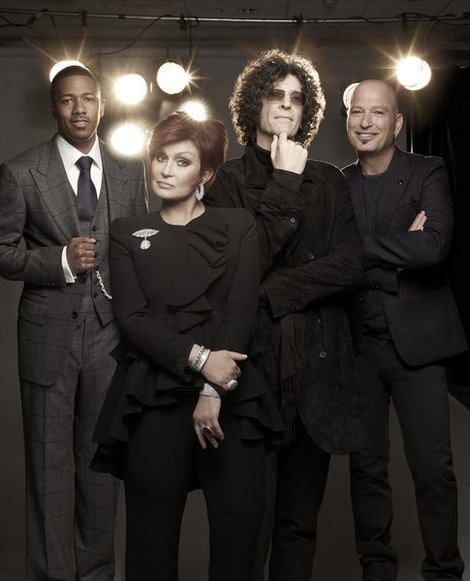 "America's Got Talent" kicked off its seventh season on Monday night with a new addition to the judging panel - Howard Stern.  Skeptics weren't sure how he would respond to the (sometimes wacky) contestants, but he did surprisingly well.

The talent competition kicked off with a "magician" who required a ring to do his trick.  After Nick Cannon claimed his wedding band (from wife Mariah Carey) wouldn't come off his finger, Howie Mandel reluctantly jumped on stage with the guy and handed his over. 
The magician made a few bad jokes and was given the "X" by Stern twice (he pushed Mandel's button too) before revealing his show-stopping trick. He dressed in a fake muscle shirt reminiscent of a "Jersey Shore" character, ripped it off, and revealed Howie's jewelry hanging from a nipple ring. Mandel, a known OCD sufferer, didn't want the ring back.
Stern wasn't cruel to contestants who weren't very good, and he was genuinely moved by several acts and had no problem expressing his delight with them.  In one act, a musician/sculptor created a stringed instrument that spread across the Los Angeles auditorium.  He proceeded to play it while another person banged on some drums.  Stern mentioned how he made his career out of being original and this guy was original too.  "I bow down to you," he said.

In another act, YouTube sensations Jorge and his daughter Alexa crooned "Home," which made Stern wonder why his own father didn't play guitar with him when he was a child.
In another memorable moment, Stern went on stage with a man named Simply Sergio who sang "Girl from Impanema" and "God Bless America." Stern, who is very tall, embraced the man, getting sweat all over his hands.

There is definite chemistry between Stern, Mandel and Sharon Osbourne. As Osbourne commented in the first few minutes of the episode, it should be a lucky season because seven is a lucky number.
Watch Howard with Simply Sergio: