Howard Stern: 'I Will Give You An Honest Opinion'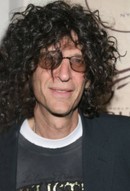 Howard Stern has shrugged off concerns over his appointment as a judge on America's Got Talent, insisting complaints from parents' groups are unfounded as he will be taking his new role "seriously".

The controversial shock jock is set to replace Piers Morgan on the panel of the hit TV show, but campaigners at the Parents Television Council have accused NBC network bosses of "desperation" for hiring the foul-mouthed funnyman.

Stern has now appeared on Piers Morgan Tonight to rebuff concerns about his new job, telling the host, "Networks shudder for people like this. I guess they get their printer out and they make a letterhead and they start to complain that I'm some sort of weird pervert who is going to convert Americans into some kind of zombie sex fiends."

He adds, "What I can assure you and the rest of America is what I'm looking at here is to be a very good judge. I take it seriously... I think (NBC) became enamored with me because they knew I was honest. Whatever you think of me, I will give you an honest opinion. My goal is to find real talent, to actually find someone who can become a major superstar."