How Stars like LeAnn Rimes, John Legend, & Taylor Momsen Got Pampered Lollapalooza Style
With Chicago experiencing a mix of heat and rain for Lollapalooza weekend, the Miami "Express Yourself" Oasis and the EXPRESS ROCKS! SUITE transformed into the ultimate relaxation destinations for talent, media, and festival VIP's alike. Hundreds of guests flooded the 2nd and 4th floors of the Hard Rock Hotel Chicago to eat, drink, and mingle like rock stars, all while receiving exclusive swag and up close musical performances from BMI.
So, how did today's biggest celebrities get pampered? Starpulse has the Lolla scoop just for you!
LeAnn Rimes and Eddie Cibrian escaped the Lolla craziness at the Miami "Express Yourself" Oasis.  (The couple, who lives in Chicago's Gold Coast neighborhood, moved to town just a week ago when Eddie was cast in NBC's "The Playboy Club".) The couple headed straight to the bar for some refreshing UV Vodka cocktails, then checking out the exciting new Motorola XOOM. 
LeAnn and Eddie also wandered to the Code of Conduct tattoo booth where LeAnn spent nearly 30 minutes sitting with an artist to design a script tattoo of the vows from her wedding four months ago that read, "You gave me the courage to be truthful, I promise to give you the comfort to be trustful." To complete her day, LeAnn tried on a pair of GUESS sunglasses, the perfect way to stay chic in the Lolla sun.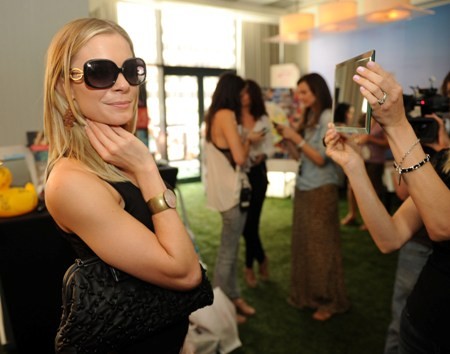 After her amazing live set with The Pretty Reckless, Taylor Momsen was ready to finish her time at Lolla in style. Checking out the GUESS sunglass display, she then grabbed a few flavors of MiO Liquid Water Enhancer for the road, while her band members enjoyed a bite from Qdoba Mexican Grill and drinks from Asahi Beer. Plus, she even took the time to autograph Clearasil's electric, white guitar. So cool!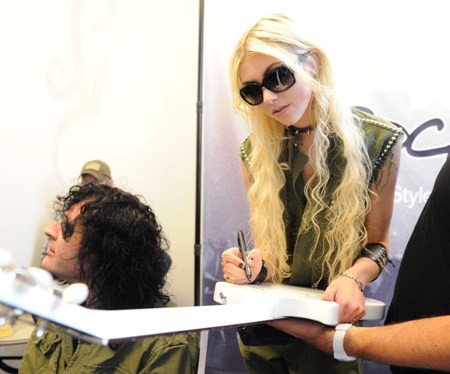 Samantha Ronson and her band The Undertakers celebrated her birthday at the Miami "Express Yourself" Oasis and EXPRESS ROCKS! SUITE. As the band wrapped up the last song in their live set, Samantha was surprised with a delivery of mini cupcakes from the Whiskey Bar & Grill Girls as her band mate, Jimmy Messer, led the crowd in singing "Happy Birthday".  To continue the celebration, Samantha held a dance-off on the new KINECT for XBOX 360 and picked up gift cards for an EXPRESS shopping spree.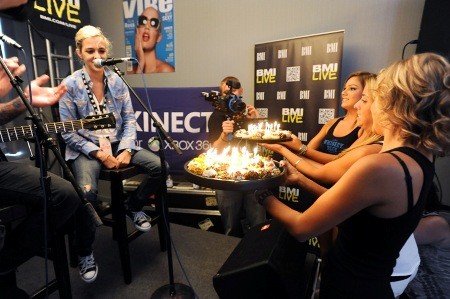 Meanwhile, in the EXPRESS ROCKS! SUITE, John Legend helped his Victoria's Secret girlfriend Chrissy Teigen pick out a new summer hat from EXPRESS before checking out the new games by KINECT for XBOX 360.
But, the couple thing to do? John and Chrissy also checked out the Motorolla XOOM just like LeAnn and Eddie!