How Long Will This Comedy 'Go On'?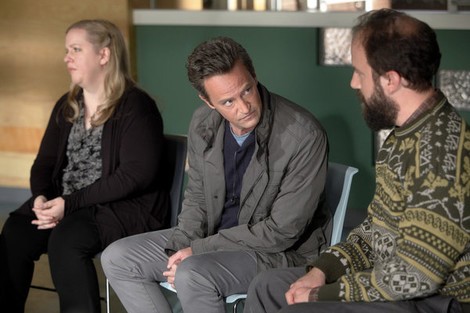 The premise of NBC's 'Go On' is a curious choice for a sitcom star like Matthew Perry. After headlining the short-lived 'Mr. Sunshine' a couple of seasons ago, viewers perhaps thought his character was too harsh. In 'Go On' he's still dark and snarky, but at least his character has a good reason for it: His wife recently died.
Perry plays Ryan King, a sportscaster who returns to work a little prematurely. He insists he's fine after his spouse's death a month earlier, but after a meltdown, his boss (John Cho) forces him to undergo 10 grief counseling sessions before returning to the job. Hilarity ensues… ? Nope, not really.
Upon arriving at group therapy, he essentially takes over the session before the counselor arrives, turning the meeting into a "March Sadness" tale of woe contest. Although the stories are laced with compassion, there are also cheesy jokes and characters who come off as pathetic or creepy. Aren't we past the point as a society that we need to make fun of people heading to therapy?
Ryan tries to play the therapist (Lauren Benanti) and even gets her to sign off on his 10 sessions after attending just one after wearing her down. But when he returns to work he seems to realize that maybe his therapy cohorts might be helpful after all.
Perry does his best with the material, and he really toes the line between likeable sad sack and a guy who's just plain mean. But his admission that his wife was the only woman he ever loved is poignant and hints that the show could feature some real depth this season.
It's hard to say how long the show will "go on" but if it turns down the cheesiness and snarkiness and keeps level with its more subtle moments, it could develop into something beyond what it is now: Promising and a bit of a mess.