How Katie Holmes Planned Her Whirlwind Split From Tom Cruise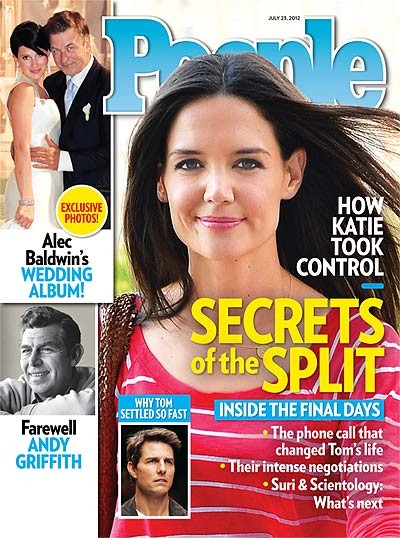 From the bombshell breakup call to the behind-the-scenes maneuverings, this week's issue of PEOPLE gives an inside account of how (and why) Katie Holmes left Tom Cruise and landed a divorce settlement in just 11 days. Unhappy in her marriage, the actress executed a secret plan to end things "in one fell swoop" and gain primary custody of their 6-year-old daughter Suri.

In gaining the upper hand in the high-stakes split, Holmes has defied the public image she often cultivated during her five-year marriage: quiet, passive and unerringly content to play backup to the world's highest-earning movie star. With help from her hard-charging attorney dad, Martin, she engineered a dramatic exit, which included moving apartments, changing cell phones, and hiring new security. "It's a real-life Mission Impossible when you have people around you who will report back to Tom," says one source of Holmes's need for secrecy.

Increasingly unhappy in her marriage as she realized "she no longer had the life she wanted, in terms of her career, her way of life, everything," says a source, Holmes resolved to end things her way – and to start a new life with Suri in New York City. "It's clear that Tom can be very persuasive and is very powerful. But once she decided to go, she was done," says an insider, who joins multiple sources in refuting reports that Holmes feared for her safety or that Scientology was the overriding factor in the split. Rather, "she is the daughter of a lawyer: She knew she had to have everything locked down before she pulled the trigger because there could be no wiggle room if she didn't want this to turn into a long, drawn-out battle," the insider tells PEOPLE.

Holmes, who was raised Catholic, began to pull away from the often-controversial religion a while ago: "Katie has not been nearly as involved with Scientology in recent months," says one source still affiliated with the church. Another source notes that "while she was with Tom, she was supportive of Scientology and appreciated the positive aspects of it." Now that she has left Cruise, has she left Scientology? "There was nothing for her to leave," says the second source. "She was never a full-fledged member and had never abandoned her other religious beliefs. Going forward, Scientology will likely not be playing a major role in her life."

As time passed, Holmes's discontent grew and she longed for substantial roles like those of Anne Hathaway and Michelle Williams. "She thought [being with Tom] was going to help her career, but it didn't," says a source. And Cruise's power overshadowed her, says an industry source: "People who don't want to have Tom Cruise on film sets don't want to hire Katie Holmes."

Cruise, who hasn't seen his daughter since the split but talks to her several times a day by phone, is still trying to make sense of how everything went so wrong so quickly. "He was a happy man and thought he had a happy life," says a source. "He keeps asking, 'What's happening?'" Instead of celebrating with Holmes as he'd planned, Cruise spent a somber 50th birthday on July 3 at home in L.A. with Isabella, 19, and Connor, 17, his children from his marriage to Nicole Kidman. Holmes hasn't spoken to the older kids, says a source. "It's like she just disappeared from their lives."

For much more on the final days of Tom and Katie, including Holmes's dramatic exit from the marriage and the intense divorce negotiations, pick up this week's issue of PEOPLE, on newsstands now.

*Also In This Week's 'People'*
Exclusive Photos! Alec Baldwin's Wedding
Carol Alt On Her Supermodel Days: "I Was So Miserable And Hungry"
Ashton & Mila: "They Basically Live Together"
Joe Manganiello: "All Too Often Hollywood Actresses Are Superskinny… I Like Curves"