'How I Met Your Mother': What To Expect In Second Half Of Season 8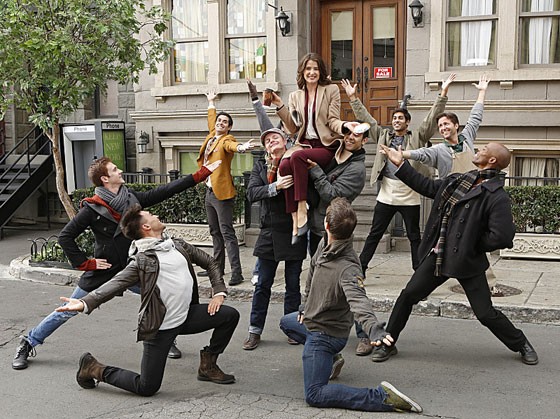 'How I Met Your Mother' continues season eight tonight on CBS. What can we expect to see in this season's remaining episodes? Will we get the "big moment?" Will there be a season nine? Check out the list below of what we might expect for the remaining season and possible series ending.
5.  More clues
The whole series has been a string of clues.  Just enough to keep us enticed but not enough to see the entire picture.  Ted went to the same St. Patrick's Day party she went to, but they didn't meet… and it's probably a good thing because she probably wouldn't have liked him that day, but Ted did accidently end up with her yellow umbrella.  Ted was in the same room as her again a year later when he became a professor at Columbia.  Prof. Mosby was giving his lecture for Architecture 101; too bad he was in the economics lecture hall instead by mistake.  She got the umbrella back when Ted dated Cindy (Rachel Bilson), a T.A. at Columbia who was her roommate at the time.  Ted again just missed meeting her, but he did get a glimpse of her foot.  I predict Ted will have at least one more close run in with his future wife before finally meeting her.
4.  Robin Sparkles!
The secret that resulted in the legendary slap bet is coming back!  Reportedly this February will bring in the final chapter of Robin Sparkles, Robin's former life as a Canadian teen pop star.  We are supposed to finally find out both the origin of Sparkles and what made Robin hang it up and start anew.  James Van Der Beek is scheduled to return as a guest star.
3.  Barney and Robin drama
We all know that Barney and Robin will get married, but there are sure to be some trials and tribulations along the way.  In Monday's episode, Robin will be working up the courage to tell her father about the engagement.  Mr. Sherbatsky has been in regret his whole life about not having a son, and finding out his daughter is getting married is sure to be a glass shattering event for him.  Both Barney and Robin have been so fiercely independent throughout their lives that it will certainly still take some time to fully commit to this wedding.  In flash forwards we have seen Barney making a dash for the window and Robin asking Ted for advice.  However, the cold feet are sure to subside in the end.
2.  Meeting the mother
We got our closest glimpse yet earlier this year.  Ted was waiting at the train station in the rain, the same one he had the run in with Klaus a year earlier.  A woman gets out of a cab, her face hidden by the yellow umbrella.  Who will she be?  What sequence of events led Ted to be in that place at that very moment?  Surely Craig and Carter have a carefully weaved story that they have been waiting eight years to come to fruition.
1.  Season 9?!?!
Although not yet confirmed by the studio, multiple reports are out that there will indeed be a season 9 of HIMYM.  Show creators Carter Bays and Craig Thomas were adamant about the show only returning if they could get the entire cast on board.  With everyone's contracts up at the end of season 8, that meant negotiations with everyone.  Jason Segel had been very public about his intentions to focus on his movie career and get away from the limitations of network television.  It would appear that Segel has had a change of heart, with Deadline Hollywood breaking in late December that Segel had agreed to come back for another season.  CBS's Nina Tassler when asked about a HIMYM season 9 Saturday at the Television Critics Association winter press tour said "We're very confident and excited that it will all work out. Almost everything is complete."
So what does this mean for the show?  Will they delay the big moment another year?  They had been very clear about wanting to know asap whether there would be a new deal made, but that does not directly imply they needed to know so they could change the scripts.  Craig and Carter may have just wanted to get a head start on ideas for season 9, or it could have just been negotiation tactics.  They could easily make the next season about what happened afterwards, but I believe it had always been Bays and Thomas's intention to have Ted meet the mother in the final episode of the series.  The kids may not be able to get up from that couch just yet.
The legend continues Monday January 14 at 8/7c on CBS.