'How I Met Your Mother' Series Finale: Was It Legendary?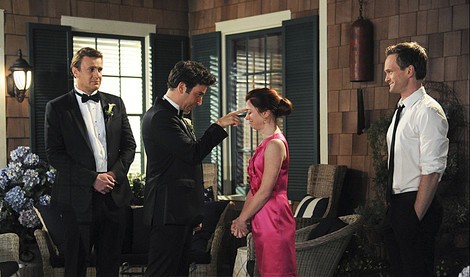 "How I Met Your Mother" completed its legendary nine-season run with a series finale that was lovingly poignant without losing its trademark humor. The series finale zoomed more than fifteen years in the future, chronicling major milestones in the gangs' lives who promised to always be there for the "big moments" but still grew apart.
SPOILERS TO FOLLOW!  
Marshall and Lily (Jason Segel and Alyson Hannigon respectively) indeed went to Rome and had two more children. Marshall finally achieved his dreams of becoming a judge (aka Judge Fudge" or "Fudge Supreme").  Due to the demands of Robin's (Cobie Smulders) broadcasting gig for World Wide News, Robin and Barney divorced just three years later which caused a rift in the group.  Robin's career continued to flourish while Barney (Neil Patrick Harris) returned to his womanizing ways.  Karma struck in the form of a woman only referred to as "Thirty-One," getting pregnant and having his baby after a one-night stand.  In one of the most touching moments of a plesantly sappy, fuzzy and dramatic finale, Barney finally met the girl of his dreams: his daughter.
Our favorite hopeless romantic, Ted (Josh Radnor) and his betrothed Tracy had two children before they ever got married.  He cherished her and was thankful for every step of his winding romantic journey, especially when she was stricken ill and died.  Six years later, he told the children the story, and in scenes that were shot nearly a decade ago, his children urged him to be with a still-single "Aunt Robin" because he still loved her.  Always one to make a grand gesture, Ted dug out the blue french horn and headed to Robin's apartment.  
I loved 99% finale as it was both a love letter to the past nine years and a complete ending for those who wanted see Ted finally meet and court his soulmate.  It did remind me, a bit unpleasantly, of the "Will & Grace" closer where the best friends forever drifted apart and only reunited decades later.  But it's that final one percent, where Robin and Ted coupled up again, that may have soured it for fans.  It felt as problematic as it did contrived, and it only degraded the adorkable love between Ted and Tracy by casually brushing over her death.  Modern audiences don't necessarily need their main characters to end up together, especially after all of Ted and Robin's missteps and false starts.  The show should have ended with Ted and Tracy huddled under their iconic yellow umbrella flirting so easily, I swear I saw hearts in their eyes.  
The series finale gifted fans and its beloved characters an ending that was mostly funny, heartfelt, candid and legendary...for the last time.
What did you think of the finale?  Did you want Ted to end up with Robin?  Was it cruel to kill the mother?  Is Alyson Hannigan television's best crier?  Sound off below.