'How I Met Your Mother' Season 8 Premiere – Is This The Final Season?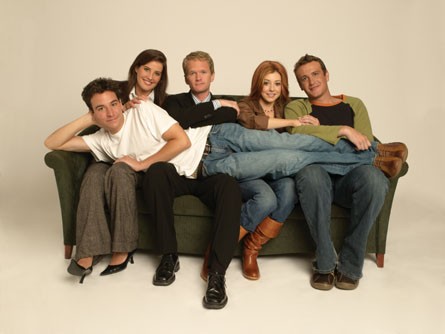 The final season of How I Met Your Mother began last night, or did it?  More on that later, but when we last saw the gang from HIMYM, Marshall and Lily had just welcomed their son into the world, Barney got engaged to Quinn, and Ted was riding off into the sunset with Victoria.
The episode began with Robin, Barney, and Quinn back at Marshall and Lily's apartment.  Marshall and Lily were exhausted from taking care of their new son, Marvin.  Quinn surprisingly asks Robin and Lily to be her bridesmaids, and Robin clearly feels uncomfortable.  When she confronts Barney about it, he tells her that Quinn has no idea that Robin and Barney dated, and that he had gone through the trouble of eliminating any evidence that it ever happened.
Victoria had decided to bail on her wedding to be with Ted.  He clearly was still conflicted.  Ted himself had been left at the altar just a few years earlier.  When Victoria says that she didn't even leave a note, Ted insists that they go back to the church and at least leave an explanation.  Ted goes to sneak into Victoria's dressing room and leave the note. Surprisingly, Klaus (Victoria's fiancé) comes climbing out the window.  He says that he can't go through with the wedding and that he is heading for the train station.  Suddenly, Ted and Victoria are now off the hook for wanting to run away together.
Back at the apartment, a spaced out Lily accidentally tells Quinn about Robin.  Quinn freaks out, and gives Barney one minute to explain himself.  Barney gives an amazing summarization of the entire series of HIMYM in 52 seconds.  Quinn is still uneasy.  Robin says she has moved on and that she has a new boyfriend, and she wants them to go down to the bar to meet him.  When they get down to the bar, Barney asks Robin if she's OK, and she says she's fine, but she was taken aback by how Barney destroyed all the evidence that they had ever been together.  Barney pulls out a key and says, "622 West 14th St." and goes back to talk to Quinn.  It turns out Barney had stashed pictures and other memories of the two of them in a storage locker.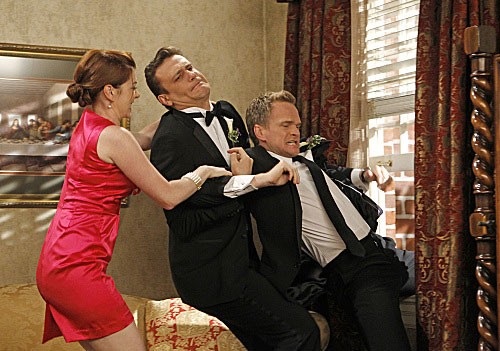 Ted goes back to Victoria, and is ready to ride off with her, but then says he has to do one last thing.  Ted finds Klaus at the train station, and asks him why he doesn't want to marry Victoria.  Using some long German words, Klaus explains that Victoria is wonderful, but she's not his everything.  Klaus asks if Ted has ever felt that someone was the one.  Ted says, "I think so."  Klaus replies, "If you have to think about it, then you have not felt it.  When you feel it, you always remember where and when."  Older Ted explains that he had the where right, just not the when.  Flashing forward, we find Ted sitting at the train station in the rain and the girl with the yellow umbrella gets out of a cab.
So the final season of HIMYM has now begun, or has it?  Back in July it was revealed that CBS had made preliminary talks with creators Carter Bays and Craig Thomas about a potential ninth season.  The talks came on the heels of HIMYM's highest rated season yet.
Right now it would appear the safe bet is the series will wrap up this spring. Josh Radnor (Ted) told The Hollywood Reporter, "So many things have to drop into place for (a 9th season) to happen.  They really need to figure it out because the writers need to know." 
The biggest blockade is contract negotiations.  When asked at a screening of the season 8 premiere if the show would possibly come back without all of the stars, Craig Thomas said, "No, never ever ever." All of the actors' contracts are up at the end of the season.  Neil Patrick Harris (Barney) told Access Hollywood, "If they want to do 9, they're welcome to, but we have a lot of other things."  Jason Segel has been quoted as saying that he's been playing the nice guy for quite a long time now and looks forward to continuing his successful R-rated movie career. 
So right now, I would count on this being the beginning of the end for HIMYM.  Thomas said, "We're writing this season like it's the end."  As much as I love this show, I say it's time.  Die-hard fans have been waiting a long time to meet Ted's soul mate.  Last season was the story of Ted finally hashing out all his unresolved issues; this season should be the story of how he met his future children's mother.   We got a little bit more of that story last night.  I look forward to the story of what happens between Barney and Quinn, how Barney and Robin fall back in love, and finally seeing the face that is under that yellow umbrella.
The legend continues Mondays at 8/7c on CBS.