'How I Met Your Mother': Robin Sparkles 'Underneath The Music'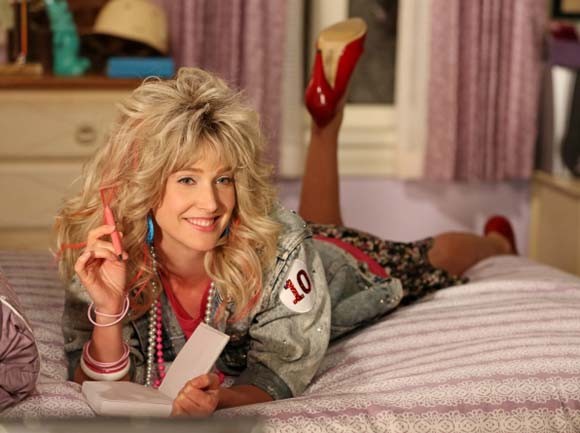 HIMYM returned last night, a day after a wild Super Bowl on CBS.  This also kicked off sweeps month for America's #1 network.  Two weeks ago I predicted that this would be the most watched episode in the history of the series, and I will be very interested to see the Neilsen ratings get tallied. 
The story began with Ted on another Mosbian quest after having a run in with a girl on the subway.  Lily and Marshall urge Ted to not go into stalker mode.  However, the tables get turned when Jeanette tracks down Ted.   It turns out that she was the one who was stalking Ted, and caused a fire at the building he was giving a lecture in order to cause an evacuation.  Ted, the hopeless romantic, turns a blind eye to everything when she says, "I just couldn't live with the idea of not meeting you."
When Lily and Marshall voice their concern, Robin is surprisingly on the other side.  She says that it's easy for someone to get carried away.  She confesses that she had an obsession with a man back in Canada that got out of hand.  Of course, this leads Barney to go on a mission to find out everything about it. 
Barney interviews all of Robin's old boyfriends, including Simon (James Van Der Beek).  He tells Barney that Robin had a dark spiral when she was the teen sensation Robin Sparkles, and that he could learn about it on the episode of Canada's "Underneath the Music" that featured Sparkles. 
Barney quickly procures a copy of the episode and watches it with the rest of the gang.  The VH1 spoof contained a slew of Canadian guest stars doing cameos: Jason Priestley, Geddy Lee, Alex Trebek, Luc Robataille, K.D. Lang, Alan Thicke, Dave Coulier, and Paul Shaffer.  It turns out Robin wrote a song called "P.S, I Love You" about her obsession, and there was a lot of debate over who the object of her affections in fact was.  Finally, Robin confesses that the P.S. in the title of the song didn't mean postscript, it meant Paul Shaffer.
As for Ted, he finally decides he must confront Jeanette about the fire.  Nevertheless, he lets the romantic get the best of him.  Older Ted says that everybody has to make one last big mistake before getting married, and says that Jeanette was that big mistake.
This was another episode written by show co-creators Craig Thomas and Carter Bays, and it showed.  It was another nicely weaved story between Ted and Jeanette's obsession with each other, Robin's old obsession, and the story of Marshall and Lily first falling for one another.  It was a lot of fun to see all of the cameos by Canada's finest entertainers and the return of James Van Der Beek.  We also welcome Abby Elliot to the show, playing Jeanette.  Abby already had the HIMYM connection with her real life father, Chris Elliot, playing Lily's father on the show.  How big of a mistake will Jeanette end up being for Ted?  We'll have to tune in next week to find out.
The legend continues Mondays at 8/7c on CBS.