'How I Met Your Mother' Review: Cristin Milioti Returns In 'The Lighthouse'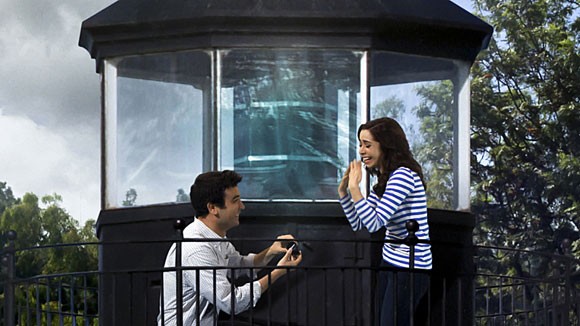 Sweeps month kicked off at CBS with How I Met Your Mother's eighth episode of their final season.  "The Lighthouse" picked up Saturday morning of the weekend of Barney and Robin's wedding.  At brunch, there is still some hostility between Robin and Barney's mother Loretta.  It is important to Barney that they bury the hatchet, but he doesn't know how to get them to make up.  They continue to fight through breakfast, resulting in a ridiculous fight about who makes better scrambled eggs.
Lily was still dealing with the bomb that Marshall had dropped on her.  Marshall had accepted a judgeship in New York, ruining their plans to move to Italy together while Lily worked as an art consultant.  She begins to let her anger cloud her judgment and takes it out on Ted.  When Ted says that he and Cassie wasn't going to happen, Lily yells at him and asks him what is wrong with him.  After the lecture, he decides to take Cassie up to the Farhampton lighthouse, which is supposed to be a romantic spot.
Marshall continues to make his way across America with his son Marvin and reluctant passenger Daphne.  Driving through Ohio results in a pitstop at Ted's mom's house.  Ted's stepfather Clint can sense that Marshall and Daphne aren't getting along.  He tries to get them to talk about it, but they will not.  Eventually they get so tired of Clint, they unite in a mutual distaste for him. 
Back at the inn, Loretta proves that she wasn't overselling her scrambled eggs.  She takes over the omelet station at the brunch and everyone is clamoring over her cooking.  Robin says she can do it just as well, but when she takes over it proves otherwise.  Loretta asks how Robin expects to take care of children if she can't take care of an omelet.  Robin declares that she can't have children and storms off.  Loretta asks Barney how long he has known and if he is ok with it.  Barney says that he is not marrying a future possibility of a family; he is marrying a girl that means more to him than anything in the world.  Loretta finds Robin and they hug it out and finally bury the hatchet.
Ted's venture up to the lighthouse ends up being a disaster.  Cassie sprains her ankle and Ted has to help her up the stairs to the top.  Ted vomits over the side of the railing.  Ted says to Lily back at the inn that the lighthouse actually was quite romantic, and that he had wasted it on the wrong girl.  "So go back with the right girl," Lily replies.  It turns out Ted did end up going back with the right girl.  We flash forward two years to find Ted and "the mother" at the lighthouse taking in the view.  "I don't know how you could improve on a day like this," the mother says.  "Well I'm gonna try," Ted replies.  He gets down on one knee and proposes to the girl of his dreams.
I've been complaining for weeks that we haven't seen Cristin Milioti since the season opener.  We finally got to see her here in this great scene at the end of the episode.  The chemistry between her and Josh Radnor is perfect.  Craig and Carter definitely found the right girl for the part.  It was also great to see Ted's mom and Clint again.  Anna Camp is certainly some good eye candy, but her character Cassie was once again so annoying that it was hard to enjoy it.  I really hope Marshall gets to Farhampton soon.  The cross country drive storyline is getting old.  Did Jason Segel ask for less interaction with the cast when he decided to come back for a final season?
This episode was the first of the series credited to staff writer Rachel Axler.  Nice job, Rachel.  HIMYM will be new every week for the next 4 weeks.  The legend continues Monday at 8 7c on CBS.