'How I Met Your Mother' Recap: 'The Ashtray'
HIMYM returned with an all new episode Monday night.  Earlier this month, CBS finally confirmed what we had all suspected that the show had been picked up for a ninth and final season.  Over the last couple of weeks, it has become clear that we will in fact not be meeting the mother this spring, as was originally expected.  I am excited for more episodes, but have to admit that I am a bit disappointed that we have to wait even longer for the big moment.
The episode began with the Captain leaving a message for Ted.  The Captain (Kyle MacLachlan) was Ted's ex-girlfriend Zoey's ex-husband, and Ted immediately thought the worst.  Was the Captain looking for some kind of revenge?  The message leads Ted to relive the last time he ran into the Captain last year.  As we are used to seeing on HIMYM, the story ends up being retold from several angles.
In the Ted version of the story, the Captain is icy cold.  He ridicules Ted after they run into him at an art gallery.  The Captain invites them to see some art at his place, and the Captain points a harpoon at his head.  Then he says that Ted had better not steal his new love, Becky, a commercial actress that Ted had actually been seeing.
Robin swoops in an says that Ted remembers it all wrong because he had been "eating sandwiches" with Becky earlier.  This reference goes all the way back to season two, when older Ted retold a story to his kids about college where he replaced smoking pot with eating sandwiches.  The Captain was actually in a good mood, and had come to the art gallery with his art consultant.  She claims the real reason that the Captain has contacted Ted is that he has a crush on her. 
Lily finally jumps in and tells the real story.  Lily had brought Ted and Robin to the art gallery, but she was beginning to regret it.  Ted shows up high, and Robin is getting wasted off of the free drinks.  They run into the Captain, and Lily tells him that she loves a painting of an elephant at the gallery.  The Captain's art consultant says that the elephant is atrocious, and that they should come up to the Captain's place if they want to see some great artwork.  Back at the Captain's, Lily offers her opinion on the artwork.  The Captain reciprocates by saying, "Who cares what you think? You are just a kindergarten teacher." 
This was a crushing blow to Lily's psyche for sure.  However, when they contact the Captain, it turns out it is Lily that he wants to see.  He invites Lily back to his place, and shows her that the elephant painting that she had pointed out was hanging over his bed.  He explains that the artist has since become famous, and that the painting was now worth millions.  His art consultant had completely missed it, but Lily saw the art's true value.  The Captain offers Lily a job as his new art consultant.  Lily has always wanted to truly use her art degree, and jumps at the opportunity.
I found this to be a very well put together episode.  It was reminiscent of layered stories from earlier seasons.  I was worried that with Barney and Robin together, that we wouldn't have as many fun Barney moments, but they continue to come up with creative storylines.  Last night, Barney injects himself into the story, even though he wasn't there.  In the tag scene, he runs a play called "The Royal Archduke of Grand Fenwick" on the Captain's art consultant.
The news I referenced earlier means that the story will end up being stretched out a bit.  I'm guessing we're going to be seeing a lot more episodes like this one, where the story is essentially the retelling of something that happened previously.  Show creators Carter Bays and Craig Thomas promise they have some big ideas for season 9, and I hope they come through, because right now I am just a little hung up on the fact that we are going to have to wait a whole another year to finally meet the mother.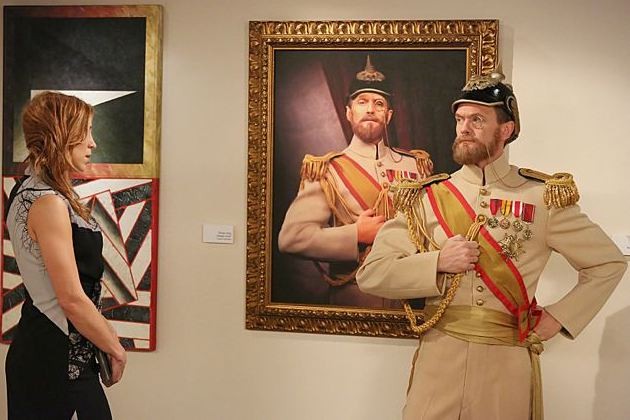 The legend continues Monday at 8 7c on CBS