'How I Met Your Mother' Recap: No Questions Asked Favors Called In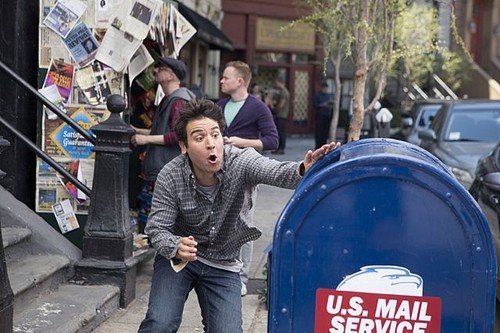 How I Met Your Mother returned last night with "No Questions Asked."  It isn't Halloween time on HIMYM, but they managed to do a ghost themed episode anyways.   You may remember that in last season's finale Marshall accepted a judgeship in New York without discussing it with Lily.  At the end of last week's episode, Daphne texted Lily this news using Marshall's phone. 
Marshall calls in a favor, no questions asked, and asks Ted to delete the text from Lily's phone.  Ted apparently owes Ted a "no questions asked" to Marshall for a time he unscrewed a mailbox that Ted was trapped inside.  Ted breaks into Lily's room through the window.  As if that weren't scary enough, it turns out Marshall had booked room 13 for himself and Lily, which is supposedly haunted by the ghost of Captain Dierduff. 
After Lily goes to the lobby to complain about the room, Ted starts tossing the room looking for the phone.  Barney and Robin also show up at the room, separately.  Marshall had called in the same no questions asked favor with all of them, increasing the chances of the mission being completed.  However, none of them collaborated with each other.  Barney and Robin realize that they are both "lone wolves" and rarely ask eachother for help.  This will need to change if they want to have a successful marriage.  They work together on an elaborate plan to get the phone, which they now realize Lily still has on herself in the lobby. 
When they get to the lobby, Ted says that he has already taken care of it.  He realized all he had to do was call in his no questions asked favor from Lily, which he earned by saving her from her students when they went rogue one school day.  He asked her to stomp on her phone:  no questions asked. 
The text was finally erased, and Ted informs Marshall that the mission is complete.  Nevertheless, the whole thing doesn't sit right with Marshall.  He asks Ted to hand the phone to Lily and finally tells her the news.  Lily does not take it well.
I am going to echo a lot of the things I said about last week's episode.  This one had its moments, but wasn't a really great episode.  This feels more like a side story plot than a main story for an episode.  It didn't really take on the typical format of HIMYM we are used to seeing.  Usually we might get a glimpse of what happens at the end, and then get the story of how we got there, but that was not the case here.  The episode was written by Stephen Lloyd, who has now written 14 mostly forgettable episodes, the best of which was probably "Intervention" back in season 4.  I did enjoy Flight of the Conchords' Rhys Darby as the hotel clerk. 
Crisitn Milioti was once again absent for the sixth straight week.  It was recently revealed that HIMYM's 200th episode, which will air in February, is to be titled, "How Your Mother Met Me."  Perhaps we will not have to wait until spring to see that fateful moment.
The legend continues Mondays 8 7c on CBS.