'How I Met Your Mother': Lily And Marshall Search For A Nanny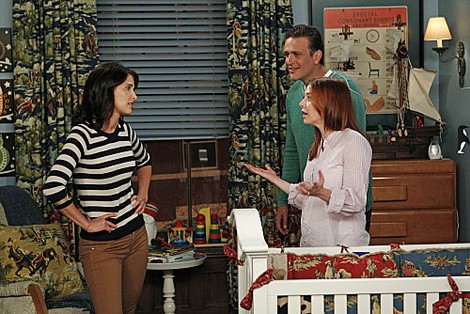 How I Met Your Mother returned last night for the second episode of what is looking increasingly likely to be the final season of the show.  Co-creator Craig Thomas told TV Guide, "We wanted the season premiere to feel momentous because this could be the beginning of the last chapter.  There are negotiations happening, but I don't know how that's gonna go and I don't know when I'll know if there'll be a Season 9. Carter [Bays] and I are really writing the season as if it's the last season and this is how we would start it."  Last week's premiere gave us the big reveal that Ted would meet his future wife on the train station near the location of Barney and Robin's wedding. 
But before we get to that point we have to find out what happened to everyone's current relationships.  Older Ted tells us that fall 2012 would end up being known as "The Autumn of Break-ups."  Ted was back with Victoria, Robin started dating Nick, and Barney and Quinn were planning their wedding. 
All three relationships were beginning to have problems.  Still uneasy about marriage, Barney insists that Quinn sign a lengthy and rather ridiculous pre-nup.  Debating the legitimacy of certain parts of the pre-nup begin to drive rifts between the other couples.  Nick says that Robin is not into him because he caught her watching TV during sex.  Ted, in a hero moment, invites Klaus to crash at his place after things start falling apart for him.  This is obviously weird for everyone, and after a while Klaus begins to get on everybody's nerves.
Quinn decides to strike back with her own ridiculous prenuptial agreement.  Eventually, Quinn straight up asks Barney, "Do you trust me?"  Barney pauses, then responds, "No… do you trust me?"  Quinn says that she does not either.  It turns out that Barney and Quinn would be the first tragedy of the Autumn of Break-ups.  In a flash forward to the spring, we see Barney talking with his co-workers about how awesome his wedding will be.  His boss says, "Need help with a pre-nup?"  Barney replies, "No, not this time."
This episode was written by the aforementioned co-creators of the show Craig Thomas and Carter Bays.  They have written many of the best episodes of the series, but this I feel will likely become one of the more forgettable ones.  It was an important part of the story of Barney's journey back towards Robin, but overall not a lot happened in the episode.  The side stories were basically non-existent.  I am also perplexed by why Ted is still with Victoria.  I thought his conversation with Klaus last week in the premiere was so powerful, and I thought that it would make Ted realize right away that Victoria is not the one for him.  But as the Autumn of Break-ups implies, we will find out how Ted makes that realization soon enough. 
The legend continues every Monday at 8/7c on CBS.