'How I Met Your Mother' Finale Reveals Cristin Milioti As 'The Mother'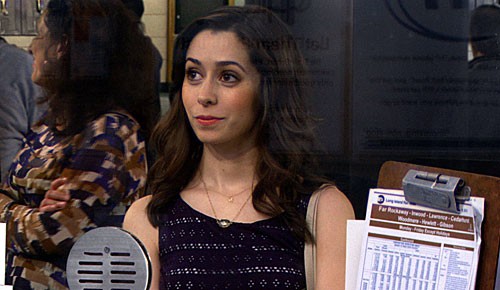 HIMYM wrapped up their eighth season Monday night.  A year ago we thought this would be the series finale, and we would finally meet the mother of Ted's future children.  A few months ago it was revealed that HIMYM would be coming back for a ninth and final season.  The moment of Ted meeting his soulmate would have to wait, but the season finale was chock full of big moments that did not disappoint.
The episode began with Marshall and Lily packing for Italy.  Lily picks up the phone and it is Judy, Marshall's mom.  It turns out that Marshall had still not told his mother about the move, and Lily spills the beans.  Lily can't believe Marshall hadn't told his mom about the big move.  "This is face to face news," Marshall explained.   In order to calm her down, Marshall tells his mom he is hopping on a plane with Marvin so she can see them before they head to Rome. 
Free of having to take care of Marvin, Lily meets up with Ted at MacLaren's.  She asks what Teddy West Side is up to later, but he replies that he is "Teddy Westchester" tonight.  Ted was finally putting the finishing touches on the fixer-upper he bought, and Lily is excited to see the results.  They head out there, and Lily is very impressed, until she finds a for sale sign.  "You're selling this place?" Lily asks.  "I'm moving to Chicago," Ted replies.  Ted says he is done looking for his soulmate in New York.  Lily sees through it.  Ted doesn't want to move to Chicago because he thinks the girl of his dreams is there, he's doing it because he thinks that she is right here. 
Ted confesses that helping Robin look for her locket she buried in Central Park brought his feelings for her back to the surface.  He says that if there was anything he could do to make that locket appear he would do it.  In another surprise, Lily reveals that she knows where it is.  We flash back to the week that Ted was supposed to marry Stella.  It turns out Robin was feeling back then the same way Ted is feeling now.  In a drunken stupor, Robin leads Lily to the place she buried the locket in Central Park.  They bring it back to the apartment and Lily says she'll keep it in a racecar pencil box until Robin wants it back.  Ted's eyes light up.  "The locket is in the racecar pencil box?" Ted says.  Robin had never come back for it; Ted brought it with him to his new place.  The locket was hidden in his apartment this whole time.
In Minnesota, things are not going quite as planned.  Instead of this being a good bye trip, Judy is doing everything she can to keep Marshall in the U.S.  When Judy realizes she probably can't stop it, she begins to say that she'll go with them.  Lily calls Marshall and he reassures her that nothing can stop their plans.  As soon as he hangs up, he gets a surprise phone call.  It is the New York State Judiciary Committee.  They have decided to offer Marshall an opening on the bench.
Everyone is packing up for the trip to Farhampton.  It is Friday morning, 56 hours to Barney and Robin's wedding.  Ted wrapped up the locket and is bringing it with him as his wedding present.  Barney and Robin head downstairs and Ranjit is waiting to take them in his limo.  Marshall's brother is dropping him off at the Minneapolis-St. Paul airport.  Lily calls, and Marshall says that he can't wait to see her, and that in one week they'll be in Italy.  "You still haven't told her?" his brother asks.  "No, this is face to face news," says Marshall.  "Good luck with that, your honor."  Ted meets up with Lily and asks her to not tell anyone about Chicago.  She asks him when he is heading to Chicago, and he says early on Monday.  "How are you going to get back (to the city)?" Lily asks.  "I guess I'll take the train," Ted answers.  Cut to the Long Island train station, where we see the feet of a girl carrying a yellow umbrella and guitar case.  A montage rolls of everyone heading out.  The apprehension on Marshall's face about the news he has to break, the happiness on Barney and Robin's faces, and the resolve in Ted's face all shine through.  Then, in the biggest surprise of the night, the girl we just saw walks up to the ticket window and orders a ticket to Farhampton, and we meet Ted's future wife for the first time.
It was always believed that we would not even see the show's namesake until the final episode.  Of course, this was originally going to be the last season.  It would appear that the addition of a ninth season made show creators Craig Thomas and Carter Bays decide to move up this reveal.  Every season finale up to this point had included a big moment, and they knew the die-hard fans would be expecting something huge.  The mother is played by Cristin Milioti, a relatively obscure actress.  She has appeared in minor roles on such TV shows as The Sopranos, 30 Rock, and Nurse Jackie. 
Let the speculation begin!  Will Ted not meet her until the series finale?   Or will the wedding take place before then and we will get to see some of the story of Ted falling in love?   Until this moment, I would never have thought that the latter could be the case.  However, with this episode ending just two days before the wedding, it would take a lot of stretching out to make the wedding not come until the series finale.  Is Cristin Milioti what you pictured the mother to look like?  I am kind of glad she is an unknown actress.  It would be weird if it was someone we felt like we already knew.  We want to be meeting her too, not just Ted. 
I have come around after feeling pretty annoyed last week.  This was a great season finale.  It gave us enough surprises to be satisfied and still left us intrigued about what is yet to come.  There was also a pretty good side story which I didn't even have time to mention about Barney and Robin messing with another couple which they dubbed their mortal enemies.  This episode makes me feel better about Ted pining over Robin once again.  We now see a Ted that realizes his feelings, and wants to move on with conviction. 
The legend continues September 2013 with the 9th and final season (for real this time).  I can't wait.