'How I Met Your Mother': Barney Reveals 'The Final Page' Of His Playbook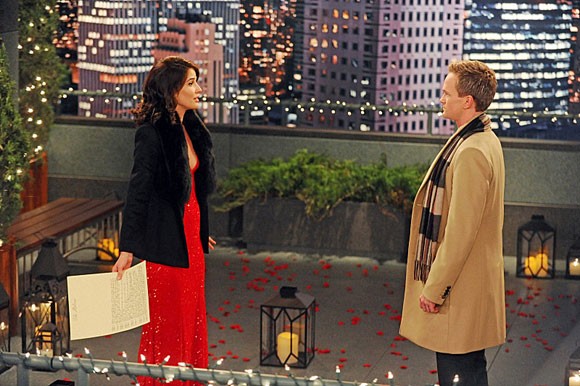 I was a bit confused when I saw the title to last night's new HIMYM episode, "The Final Page."  It sounded like the name of a season finale, or even a series finale, but one hour later everything would make sense.  The episode starts with Barney being placed under a jinx, unable to talk until one of the gang says his name.
You may remember last week left Robin in shambles after her failed attempts to hook up with Barney only to see him dating her co-worker Patrice.  The gang says that Patrice is Robin's "Pit Guy," the person you would put in the bottom of a pit Silence of the Lambs style.  Lily and Marshall claim that their pit guy is an old college classmate, Darrell LaCourt, while Ted says that his is an old teacher, Prof. Vinnick. 
With the grand opening of the GNB building coming up, Ted decided to confront Prof. Vinnick, so the gang goes on a road trip to Wesleyan.  When Ted gets there, he sits in on a lecture by Vinnick (guest star Peter Gallagher), and is reminded what made him a great professor.  Ted is all ready to make peace with Vinnick, when instead Vinnick says that he doesn't remember Ted and that his building is an eyesore. 
Meanwhile, out roaming on campus, Lily and Marshall run into Darrell LaCourt (guest star Seth Green).  He started a leisure sports company on campus, and named it "The Three Amigos," referring to Darrell, Lily, and Marshall.  He invites them to come to his place.  Barney gives them the gesture that he would help them lie their way out of having to go, if they would lift the jinx, but they decide to stay stubborn and follow Darrell. 
Back at World Wide News, Sandy Rivers (guest star Alexis Denisof) tells Robin that they need to let someone go.  She decides to use this new power to finally get rid of Patrice.  However, halfway through it she realizes how crazy she has been. 
They all realize that if you obsess about a "pit guy" that you are really just trapping yourself down in the pit, and you have to pull yourself back up.  Robin backs off on firing Patrice, Ted finally gets over the invalidation from Prof. Vinnick, and Lily and Marshall realize that Darrell is actually just a misunderstood, nice guy.
Barney hops in the car with Ted, and pulls out a ring.  "Barney!" yells out both of them, finally breaking Barney's jinx and setting a new one on Ted.  Barney says that he is going to propose to Patrice, and that he will break Ted's jinx only if he promises not to tell the gang, especially Robin.  Ted agrees, but his promise doesn't last long.  He tells Marshall, and asks for advice on whether to tell Robin.
To complicate things, Ted had already asked Robin to be his date for the grand opening party for the GNB building.  Ranjit (guest star Marshall Manesh) picks up Ted and Robin to take them to the party in his limo, and Ted struggles with what to do.  He finally tells Robin about Barney's plans, and that he thinks that she should go after him. 
Even when Robin says that they should go to the party, Ted secretly directs Ranjit to drive to the World Wide News headquarters.  Robin looks in surprise at their destination, and Ted urges her to go after him once more.  "Why?"  "Because you're in love with him," Ted responds.  Robin says that she has tried enough, and that she doesn't want to make an ass out of herself.  Ted comes back to say, "I'm a leading expert in the field of making an ass out of yourself, and I say to you from the heart, get the hell out of this car." 
Robin finally makes her way to the roof, where Barney was supposed to make his proposal to Patrice.  Instead, Robin finds an empty roof, littered with rose petals, and a page that has been torn out of a book:  the last page of Barney's Playbook.
"The Robin"
Step 1:  Admit to yourself that you still have feelings for this girl
Step 2:  Choose the completely wrong moment to make a move and get shot down on purpose
Step 3:  Agree that you two don't work, locking the door on any future you have together
Step 4:  Robin goes nuts
Step 5:  Find the person that annoys Robin the most in the world (Patrice) and ask for her help
Step 6:  Check with doctor about possible broken ribs after big hug from Patrice
Step 7:  Pretend to be dating Patrice
Step 8:  Wait until Robin inevitably breaks into your apartment to show the Playbook to Patrice
Step 9:  After Robin shows Patrice the Playbook pretend to have a fight
Step 10:  Show your "loyalty" to Patrice by burning the Playbook; besides you don't need it anymore
Step 11:  Wait for your friends to stage an intervention for Robin
Step 12:  Tell only Ted about your intentions to propose to Patrice
Step 13:  Wait and see if Ted tells Robin, and if he does, it means your best bro in the world has let her go and given you his blessing
Step 14:  Robin arrives at her favorite spot in the city, and finds this page to the playbook
Step 15:  Robin realizes she's standing under mistletoe
Robin reacts on what is a lot to take in, "This is too far, you lied to me!  This is proof of why we don't work.  Thank you, you've set me free, because how can I be with a man that thinks that this trick, this lie, would ever make me want to date him again?"  "Turn the page over," Barney replies. 
Step 16:  Hope she says yes.
"Robin Sherbatsky, will you marry me?"
"Yes."
Craig and Carter gave us a story worthy of vintage HIMYM seasons.  These two episodes were originally supposed to be played on two weeks as a to-be-continued episode, but when the schedule got bumped back by Hurricane Sandy and their following show in the lineup Partners was cancelled, they decided to air them both on the same night, and I'm really glad they did.  We got to see some of our favorite guests return in Ranjit and Sandy Rivers, who is played by Alyson Hannigan's real life husband Alex Denisof.  We got some new great guest stars with ties to the cast as well.  Seth Green and Alyson costarred as teens in Buffy the Vampire slayer and as the kids in the 1988 movie "My Stepmother is an Alien."  It definitely seemed fitting for Barney to pull off one last final charade.  I feel like the play was made as much for Ted as it was for Robin.  Barney almost sabotaged himself to make sure that he had Ted's blessing, because he couldn't go through with it otherwise.  Great job by staff writers Dan Gregor and Doug Mand on part one and as always an excellent job by show creators Carter Bays and Craig Thomas on part two of the episode.  It was the final new episode of 2012. 
HIMYM will take a holiday break, but the legend continues Mon January 14th 2013 at 8/7c on CBS.