'House' Recap: Man Of The House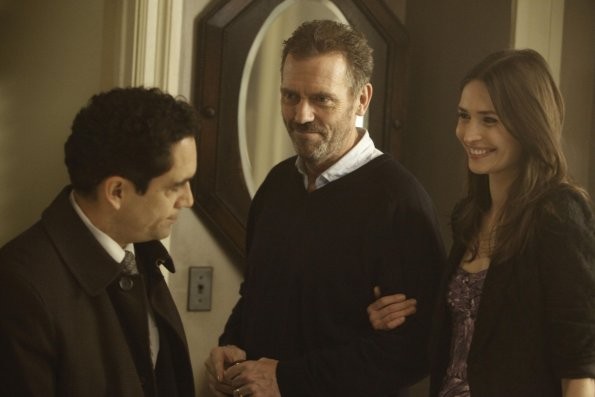 Last week FOX officially announced that "House" would end at the end of this season. After eight brilliant seasons, the staff of Princeton-Plainsboro Teaching Hospital will finally be hanging up the doctors' coats. Most speculation assumes that Hugh Laurie, who has created one of television's most memorable characters, is ready to move on. He may be right as the last several seasons of the series have been much less exciting than the early seasons, relying mostly on the "House" formula each week. 
Last night's episode, "Man of the House," begins laying the groundwork for the series' inevitable departure. There are myriad ways the show could end based on the developing storylines that were introduced last night, especially House's potential relationship with his green card wife Dominika (Karolina Wydra) and a newly named Number Two who could potentially take over the team when/if House leaves the hospital (though we would never see it). 
There are two equally prevalent storylines happening in this week's episode. The medical mystery revolves around a man name Joe, a marriage counselor who collapses while talking to an audience of unhappy spouses. The E.R. checks everything and finds that Joe is fine so of course this is a perfect case for House and his team. Joe's wife and business partner, Marlene, is constantly by his side, giving her full support while trying to keep the business going while he is incapacitated. 
While working up a diagnosis, House's wife, Dominika, appears and summons House to his office. Last season, House married the Russian woman as a way to 1) help her get a green card and 2) to piss off Cuddy. House hasn't seen Dominika for quite a while, but now Immigration has announced that they will be visiting the couple to make sure the marriage is legit. 
Joe's story turns rather interesting as House realizes what must have happened to him. Three years ago, Joe had an awakening and gave up his business consultant gig ("Glengarry Glen Ross" all the way) in order to focus on helping married couples work out their problems. His revelation came after he was brutally beaten up at a bar, including several serious injuries to his testicles. House deduces that the trauma decreased his testosterone which led to his change of heart and the softening of his personality. 
Meanwhile, House has enlisted the team's help to quiz him on Dominika's past and their phony relationship. As it turns out, Park is an expert studier and tutor, so she takes on the challenge. House has also announced that he is looking for a new Number Two to take Foreman's place before he became Dean of Medicine. The ensuing clamor for position is a typical example of how House tortures his team. 
As Joe begins getting testosterone injections, his personality begins to change. First, he becomes more physically affectionate towards Marlene, but soon he is being aggressive and rude, leaving her completely out of business decisions. Though he initially feels better, he takes a turn for the worse and the team has to reevaluate what is happening to him. As always, the initial diagnosis is never the final one and the team has to scramble to fix the many new issues that come up. 
House and Dominika have their meeting with the Immigration agent and it goes quite well…for a while. In the end, it blows up in their faces and House is almost sent back to prison. Instead, he and Dominika are let off the hook and we get the sense that House may have developed real feelings for his fake wife. Also, Taub is selected as the new Number Two (having stayed out of the bickering amongst the other candidates) which will make for a very interesting paradigm shift when it takes effect. 
Though "Man of the House" was one of the show's less impressive episodes, it set up some interesting paths for the characters to follow now that we know this will be the final season.