'Hottest Woman Of The 21st Century' Beyonce Nearly Bares All For Racy GQ Photoshoot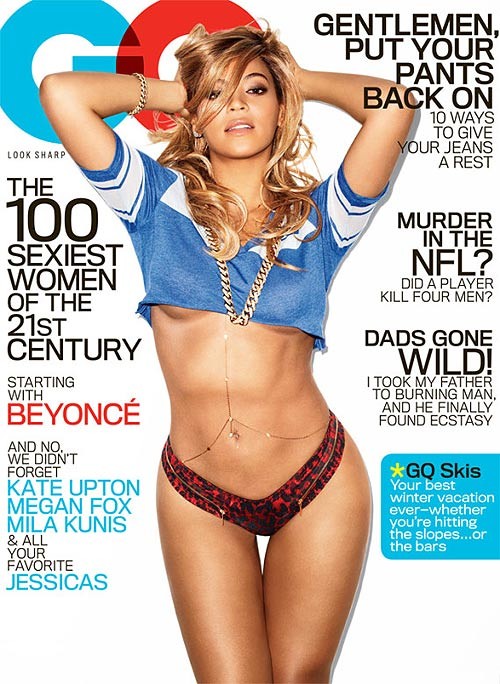 Beyonce shows off her sexy curves in the February 2013 issue of GQ Magazine, which calls her the "Hottest Woman of the 21st Century".

The singer shows off her post-baby body in a very risque shoot for the magazine, which comes a year after giving birth to her first child with husband Jay-Z, Blue Ivy.

Bey tops the list of the magazine's pics for its "100 Sexiest Women Of The 21st Century", which also includes voluptuous and curvy supermodel Kate Upton, actress and perennial hottie (and newest member of the MILF club) Megan Fox, sexy and versatile actress Mila Kunis, and "all your favorite Jessicas".

The cover image leaked online Wednesday and prompted GQ to release the "the real version of the cover everyone is talking about".

Beyonce is pictured in a football jersey and holding a football helmet and a football in a few of the shots; taken by famed celeb photographer Terry Richardson; obviously gearing up for her headlining performance at this year's Super Bowl.

"One of the reasons I connect to the Super Bowl is that I approach my shows like an athlete," she tells GQ. "You know how they sit down and watch whoever they're going to play and study themselves? That's how I treat this.

"I watch my performances, and I wish I could just enjoy them, but I see the light that was late. I see, 'Oh God, that hair did not work.' Or 'I should never do that again.' I try to perfect myself. I want to grow, and I'm always eager for new information."

The singer also discusses her work ethic, saying that her childhood goal was to be able to do whatever she wants by the time she turned 30; and now that she's reached that goal she feels "fortunate to be in that position."

Beyonce also says that she's "worked harder than probably anyone" she knows, and because of that she's become very powerful.

"I now know that, yes, I am powerful. I'm more powerful than my mind can even digest and understand," she says.

Check out Beyonce's full interview and more pics at GQ.com and pick up a copy of the February issue, on newsstands everywhere January 22nd.