Hot 'Spring Breakers' Paris Premiere Pics: Selena Gomez, Vanessa Hudgens & More!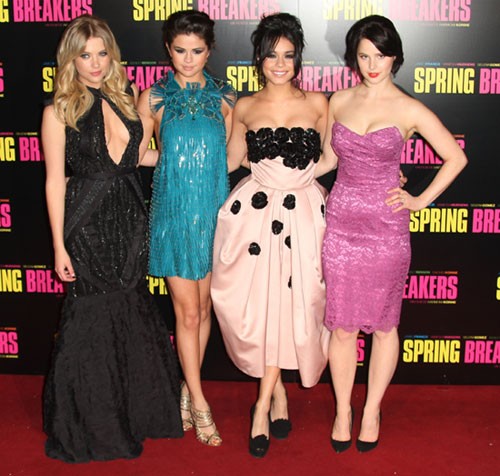 Hollywood's hottest young starlets attended the Paris premiere of their upcoming film "Spring Breakers" at the Grand Rex Theater on Monday night.
Justin Bieber's ex-girlfriend Selena Gomez, who at 20 is the youngest of the group, looked darling in a short turquoise sequined dress with strappy gold heels.
Vanessa Hudgens, 24, showed off her curves in a strapless pink dress embellished with black flowers. Ashley Benson, 23, opted for the most daring look - a black gown with a keyhole cutout that revealed quite a bit of cleavage. Rachel Korine, 26, wore a simple lace lavendar dress.
The film centers on four college students left alone on campus while everyone else leaves for spring break. Penniless, they decide to rob a diner for some quick cash. They get arrested after their vacation rental is raided for drugs, and they wind up hooking up with a drug dealer who bails them out and drags them down into his criminal underworld.
The film hits theaters on March 29.
Check out more photos from the premiere...